William F. White International
William F. White unveils February Freeze during deep freeze
The 13th annual technology showcase will be held on Feb. 4, as the film, TV and digital production sectors dig themselves out of current winter woes.
WFW continues corporate expansion, buying Paul Potvin's LES
The deal follows the equipment supplier buying Telescopic Camera Cranes (pictured), repping FlyCam Canada's aerial photo technology, and rebranding Cinequip White as Whites Digital Sales and Service.
William F. White unveils Whites Telescopic for camera cranes
The move follows completing a deal to acquire Vancouver-based Telescopic Camera Cranes and its fleet of technocranes (pictured) used in film and TV production.
CinequipWhite rebranded as Whites Digital Sales & Service
The new name for the broadcast sales company comes as parent company William F. White International continues its transition to digital offerings.
Rhonda's Party, Mimespeak, win in NSI online short film fest
The NSI also announced that WFW Intl. will continue as its Drama Prize program's exclusive lighting and grip production equipment sponsor through 2016 (Rhonda's Party pictured).
WFW Intl to exclusively represent FlyCam Canada aerial techology
The pact is the latest by the production equipment rental giant as it fends off competition from a newly-combined Sim Digital/PS Production Services.
Comweb and WFW complete $40 million refinancing deal
The agreement with BMO allows the production rental giant to continue stocking up on new equipment to serve a resurgent Canadian production sector.
William F. White Intl. stocks up for Canadian shoots
The production equipment rental giant has invested over $20 million since 2010 on the latest technology to service domestic film and TV shoots countrywide.
William F. White unveils new senior exec appointments
Garin Josey, Rick Perotto and David Hardy are among top execs getting new duties at the top Canadian production equipment supplier to the Canadian film, TV and digital industries.
Monica Cote wins WIFT-T production mentorship post
The rising production manager will spend 10 days learning about equipment and planning for digital projects and TV and film production at William F. White's Toronto facility.
Shocked industry urges Saskatchewan to reverse film tax credit cut
The grassroots Save the Saskatchewan Film Employment Tax Credit campaign has invited the media Monday to a local high school to see first-hand the impact on media students facing a devastated provincial film and TV production sector.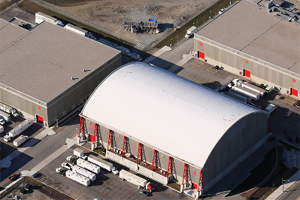 Is Ontario up to servicing a return to good times in production?
Local studios and equipment suppliers are racing to meet the demands of foreign and Canadian film and TV shoots in Toronto so the boom doesn't become a burden.