Turning a Page
Simon Barry, Stephen Hegyes launch Reality Distortion Field
The genre-focused production shingle will develop original TV series and theatrical movies for the Canadian and international market.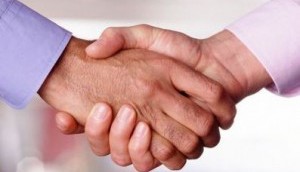 Montreal's Encore pacts with Dakota Pictures on comedy programming
The new venture will primarily target Canadian broadcasters, and incubate English versions of French-Canadian series and formats for the U.S. and international markets.
Laurie May launches Elevation Pictures
The former Alliance Films and eOne exec (pictured) is backed by an output deal with U.S. producer Black Bear Pictures.
Mark Montefiore, Patrick O'Sullivan to launch New Metric Media
O'Sullivan is leaving the CBC, where he is currently executive in charge of production, at the end of August to co-run the screenwriter-led production shingle (Montefiore pictured).
Ex-CBC exec Julie Bristow launches Bristow Global Media
The new venture will explore branded content opportunities with GroupM Entertainment, while also developing a two-way creative relationship with Jamie Oliver's Fresh One Productions (Bristow pictured).
Noah Segal leaving eOne to launch Toy Boat production venture
The eOne Films Canada co-president is leaving the company Aug. 30 to launch a new film production company.
THINKFilm duo David Hudakoc and Michael Baker launch levelFilm
The indie distributor's first acquisition is Chen Kaiges' Caught in the Web.
Alyson Richards launches Edyson Entertainment
The company launches with a first-look deal with Content Media, while Richards (pictured) has tapped former Alliance-Atlantic exec Ed Gernon to head up the company's U.S. operations.
Proper Television acquires BuzzTaxi
The move comes as the Toronto-based factual producer expands into content distribution.
Carmen Lago, Tony Chapman unveil BCT
BCT will create original multiplatform content incorporating brands into stories, and work with brands to increase ROI through non-traditional media buys (Lago and Chapman pictured).
Keshet comes to Canada
On the heels of its recent expansion into Australia, Israeli producer-distributor Keshet International is establishing a Canadian office, to be headed by former Alliance Atlantis exec Mark Rubinstein.
Temple Street Media Ventures launches Boat Rocker Studios
Working with YouTube, the original digital content studio will create a hub for online creators to produce next-gen content.