Todd and the Book of Pure Evil
Bell Media invests $930K in NSI TV course
The new funds guarantee the program's extension through the next seven years.
Frantic seals first-look deal with comedy producer Pamela Thomas
The Winnipeg- and Toronto-based indie producer is building its comedy production expertise through the deal with the Kids in the Hall co-producer (Frantic's Men With Brooms pictured).
Craig David Wallace wins award of distinction at Banff
The Todd and the Book of Pure Evil co-creator and showrunner (pictured) receives the inaugural award, created to recognize previous participants in Bell Media's TV industry fellowship program.
eOne inks slew of post-MIPCOM deals
The Canadian producer and distributor inked international deals for multiple series including Call Me Fitz, Primeval: New World and Todd and the Book of Pure Evil (pictured).
Fan Expo recap: Todd's 'season three' quest, Continuum travels afar
During Q&A panels at Fan Expo Saturday and Sunday, the casts and crews of the two shows (Todd pictured) revealed where the future is taking them.
Comedy awards panelists talk Canuck industry challenges
Scott Vrooman and Craig David Wallace, whose series Picnicface and Todd and the Book of Pure Evil were cut earlier this year, weigh in on the challenges facing Canadian TV creators.
Space cancels Todd and the Book of Pure Evil
Show creator and exec producer Craig David Wallace broke the news at last night's WGC awards, adding that all four shows nominated in the TV comedy category have since been cancelled.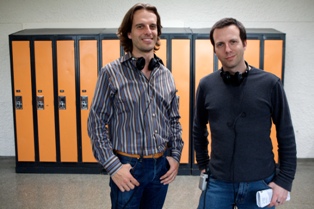 Playback Indie Survey profile: Aircraft Pictures
Co-presidents Anthony Leo and Andrew Rosen talk to Playback about online content creation, company growth and more pure evil for 2012.