The Tudors
MIPCOM: John Morayniss on refocusing CanCon, TV regs
The eOne TV boss tells Playback Daily new technologies mean old rules restrict creativity and Canadian industry growth, and must change.
The New Establishment third reveal: Trevor Morris
The Emmy-winning, Toronto-born composer has scored the soundtracks of major Canadian co-pros, including The Borgias and The Tudors, and worked with cinematic legends on Hollywood blockbusters.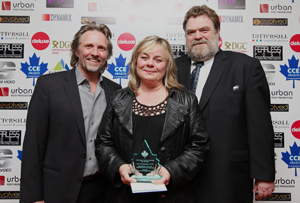 Editors honored at first annual Canadian Cinema Editors Awards
The ceremony took place in front of a sold out crowd at the Capitol Event Theatre in Toronto, where awards in eight categories were doled out.
Phase 4 Films lands The Borgias and Camelot home ent rights
Phase 4 Films and prodco Take 5 Productions will release The Borgias and Camelot on DVD and Blu-ray this coming fall.
The Borgias, Day 3: Where do little TV series come from?
Did The Tudors beget The Borgias? Are you kidding? It was practically incest. Denis Seguin wraps his report from the Budapest set of The Borgias.
Guns shoots to the top at Geminis, night two
Guns was the big winner at the 25th Gemini Awards on Wednesday night, as the CBC drama mini-series snagged five trophies.