Slice
Barb Williams on why Canadian TV still fails women
"There's no doubt that we feel there's way too big a gap," Williams told Playback Daily about the too-slow push to gender equality in Canadian media, during the Banff Industry Day.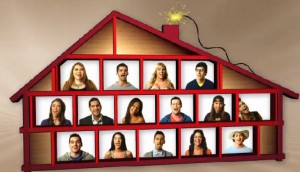 Big Brother Canada returns March 5
The hit reality show will continue to air on Slice three times a week, with a new after-show on Thursdays.
Slice and Investigation Discovery acquire Handsome Devils
The docu-drama crime series is the first commission for Saloon Media and UK partner BriteSpark Films.
Slice rounds up money morons, extreme collectors and princesses for fall
Canuck series on the sked include a second season of Money Moron and new series Extreme Collectors, hosted by professional appraiser Andrew Zegers (pictured).
Big Brother Canada dominated Canadian social TV in Q1: report
The domestic version of the reality series (pictured) amassed more than 116 million impressions and 120,000 interactions, more than any other screen CanCon, according to the study by Seevibes and Evolumedia.
Slice orders more Money Moron
Financial guru Gail Vaz-Oxlade (pictured) counsels financially irresponsible people who are putting their relationships at risk by helping to change their spending habits.
Big Brother Canada nets big finale numbers
The two-hour ep on Slice last Thursday ranked the competition reality series as the most-watched specialty series of the night, according to numbers from BBM Canada.
Slice's Money Moron joins TV intervention genre
Financial guru Gail Vaz-Oxlade (pictured) talks to Playback about her latest TV show, to debut on April 19.
Cream brings Golden Gays to Slice
Co-exec producer Sam Dock of Cream Productions tells Playback about finding the eclectic mix of people living and working in Palm Springs.
First week of Big Brother Canada draws 4.6 million viewers
As well, 215,000 hours of live-feed video of the house guests (pictured) has been streamed from bigbrothercanada.ca, Shaw Media reports.
Big Brother Canada premiere draws 1.4 million viewers
With a special presentation on both Slice and Global Television, the 15 homegrown houseguests reached a total of 3.3 million Canadians.
Big Brother Canada houseguests revealed
The 15 people were culled from over 10,000 Canadians who auditioned, and include Peter Brown, (pictured) who is touted as a professional YouTuber.