Paul Amos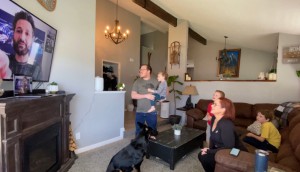 Canadian-created Homecon brings Comic-Con to fans' living rooms
Co-creator Paul Amos shares how the business model could continue to thrive post-pandemic and how it gives an expanded platform for Canadian TV and indie films.
Lost Girl adds Copper's Kyle Schmid as guest star
Linda Hamilton is also reprising her third season guest role as a ruthless assassin in the series' fourth season, slated to premiere in November (Schmid pictured).
Tatiana Maslany joins Captain Canuck web series
The Orphan Black star (pictured) joins the five-part web series, slated to launch July 1 online.
Laura Vandervoort joins Captain Canuck web series
The Bitten star (pictured) will voice the character of Blue Fox, an elusive and deadly mercenary.
Captain Canuck remake to include Smiley Guy Studios web series
The move comes as Telefilm Canada and Saskfilm get behind development of a movie adaptation from Minds Eye Entertainment.