New York Television Festival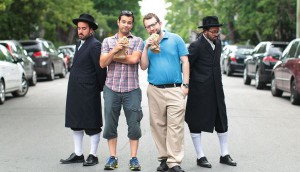 Canadian pilots make U.S. TV fest shortlist
Yidlife Crisis (pictured) is one of two Canadian projects that will compete at the New York Television Festival.
BravoFACT to send short film teams to New York TV Festival
Two producer/director teams will showcase their films and meet with industry players at the U.S. festival.
Canuck JFL pitch projects move forward on laugh track
Andrew Bush's Custodial and The Amazing Tales of Mr. Evans from Mark Little and Dan Beirne are winners in the Comedy Conference pitch program.
Just For Laughs and New York TV Festival pact for sitcom pitch contest
Five comedy performers will compete at the Montreal conference in July to see their sitcom concept showcased to studio and network execs at the U.S. TV market in October.