Nelvana
Marianne Culbert joins Mercury Filmworks
The former Nelvana executive becomes VP of production at the animation studio.
Nelvana extends Beyblade franchise with three new TV series
The latest spin-off series are Beyblade: Shogun Steel (pictured), BeyRaiderz Shogun and BeyWarriors Cyborg.
Canuck productions net numerous Daytime Emmy noms
Vancouver-produced R.L. Stine's The Haunting Hour (pictured) dominated the Canada-specific nominations, with nine.
Nelvana and Michael Eisner pact on superhero cartoon
The partners will develop Mysticons, about four regular kids called into action to double as superheros.
New BlackBerry store touted with TV and film offerings
BlackBerry World, which was unveiled Monday, replaces BlackBerry App World, features the mobile-format availability of programs from a slew of Canadian and international distributors, according to RIM.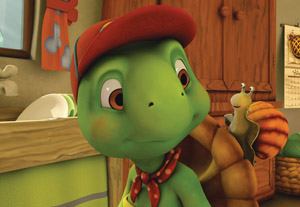 Nelvana's Franklin plunges into Sea World
The Corus-owned kids company has secured a multi-platform partnership with SeaWorld Parks & Entertainment that will incorporate its hit preschool property into the new SeaWorld Kids brand.
New Nelvana titles to kick off KidsCo 2013 sked
Series including Grossology, Jacob Two-Two and Babar will premiere on the channel, a joint venture owned by NBCUniversal and Toronto-based Corus Entertainment.
Nelvana to unveil three new animated series in Cannes
The kids media co will launch Oh No!, Paboo & Mojies (pictured)and two Franklin and Friends specials, and new seasons of Beyblade, Detentionaire, Scaredy Squirrel and Sidekick.
Banff 2012: Teletoon orders two new series, and renews another three
The animated specialty channel gave full season orders for Dr. Dimensionpants from Cookie Jar Entertainment and Endangered Species (pictured) from Nerd Corps Entertainment.
Nelvana eyes licensing, retail partners ahead of Berenstain Bears' 50th anniversary
The Canadian cartoon factory is looking to repeat its licensing and merchandise success with earlier kids TV properties like Beyblade, Max & Ruby and The Backyardigans.
Corus posts higher Q2 revenues, despite challenging ad market
Corus-parent Shaw Communications also saw a rise in its Q2 profit, while profit from continuing operations at Cogeco during the latest quarter dropped 25%.