Micheline Lanctot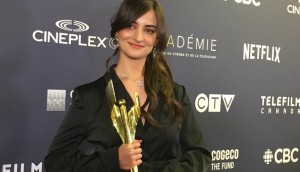 Lanctot, Mozaffari among 2019 Birks Diamond nominees
The filmmakers are among six to be honoured at the tribute ceremony, which recognizes established and emerging women in the screen-based industries.
Telefilm Canada wagers $3.7 million on five Quebec films
The bets are on the latest films by Micheline Lanctot, Carole Laure, Francois Delisle, Yves-Christian Fournier and a 3D film from Jean-Francois Pouliot and Francois Brisson.
Canadians showcase 20 films in Shanghai
Micheline Lanctot's Pour l'amour de Dieu (pictured) will compete for the Golden Goblet Award at the international film festival, which runs June 16 to 24.