Meaghan Rath
Golden Maple Awards names inaugural winners
Presented yesterday in L.A., the new awards show recognizes Canadian talent in TV series broadcast in the U.S.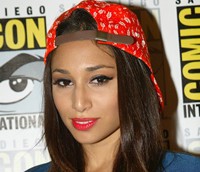 ACTRA Montreal unveils 2015 award winners
Meaghan Rath (pictured) and Mark Camacho were among the nominees who took home prizes at the ACTRA Montreal awards ceremony held on Saturday evening.
Slamdance books Pat Kiely's Three Night Stand
The romantic comedy about a married couple's weekend away disrupted by the husband's ex-girlfriend debuted at Whistler.
Fourth season shoot for Being Human starts
Muse Entertainment has the cameras rolling on another 13 episodes of the sci-fi drama (pictured) for Syfy in the U.S. and Space in Canada.
Space renews Being Human
The latest 13-episode fourth season pick-up follows Syfy similarly ordering another cycle from Muse Entertainment.