Just For Laughs Comedy Conference
Canuck JFL pitch projects move forward on laugh track
Andrew Bush's Custodial and The Amazing Tales of Mr. Evans from Mark Little and Dan Beirne are winners in the Comedy Conference pitch program.
Comedy Bootcamp Feature Pitch participants unveiled
Teams will make a five-minute pitch to comedy experts during Montreal's Just for Laughs Comedy Conference later this month.
Just For Laughs and New York TV Festival pact for sitcom pitch contest
Five comedy performers will compete at the Montreal conference in July to see their sitcom concept showcased to studio and network execs at the U.S. TV market in October.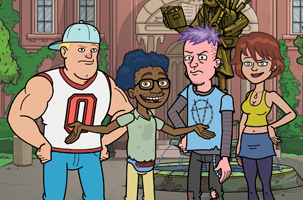 Smiley Guy lands development deal at JFL
The Toronto studio earned the prize for its web series pitch at the Montreal-based comedy conference.