Jumpwire Media
Jumpwire Media opens L.A. office
The crossmedia marketing company is headed up by co-founders Gavin McGarry (pictured) and Jennifer Harkness.
Marshall McLuhan family to headline Crossmedia Banff
Eric McLuhan, son of the legendary media theorist, and grandson Andrew McLuhan, will be on hand this September at the Banff Centre and Jumpwire Media event.
Paper tablet creator Roel Vertegaal to keynote at Crossmedia
Other conference speakers will include Erik Martin, general manager of reddit.com, Mark Gbuneim, CEO of Wiredset and Trendrr and Strategic Partnerships Google's Ipsa Desai.
Crossmedia Toronto unveils 26-speaker lineup
Vodo founder Jamie King, Uber Canada general manager Andrew Macdonald, and Mark Ghuneim, CEO/founder of Wiredset and Trendrr, are to headline the cross-platform content conference on February 21 in Toronto.
Jennifer Harkness leaving Temple Street Productions
The industry veteran is headed to Jumpwire Media, which she has been associated with since she co-founded the new media consultancy with Gavin McGarry in 2009.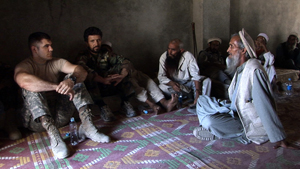 Jumpwire jumpstarts Restrepo Oscar hunt with marketing tools
Recruiting cross media producer Jumpwire Media to help market the documentary Restrepo paid off for co-directors Tim Hetherington and Sebastian Junger with an Oscar nomination and other award season glory.