John Calvert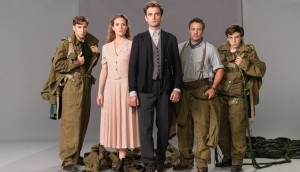 X Company gets Hungary for season two
Co-creator Mark Ellis on the pros and cons of shooting in Budapest and Temple Street's Kerry Appleyard on bringing Amanda Tapping on board.
Cameras roll on Bomb Girls movie as cast, drama take a final bow
Meg Tilly, Jodi Balfour, Charlotte Hegele, Ali Liebert, Antonio Cupo, Anastasia Phillips, Michael Seater and Peter Outerbridge are reprising their original roles.
Showcase pilot Befriend & Betray starts shooting
The Showcase back-door pilot Befriend & Betray from DHX Media and screenwriter Michael Amo (The Listener) has started shooting in Toronto, with Byran Mann and Tim Rozon in lead roles.