Jennifer Jonas
Shoot the Book! selects Toronto titles
Four novels with film and TV adaptation potential will be presented at the second annual event that runs during TIFF.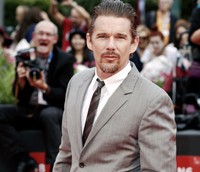 Cameras roll in Sudbury on Chet Baker biopic
The Ethan Hawke-starrer is written and directed by Robert Budreau.
Jennifer Jonas wins producers award at TIFF
The Toronto producer (pictured) accepted the prize from the Canadian Media Production Association as the Toronto International Film Festival got underway.
CMPA announces $10,000 feature film prize shortlist
Five producers, including Nicholas Tabarrok and Roger Frappier, are vying for the cash prize, to be presented on Sept. 5, marking the opening of TIFF.
1976 Productions and New Real Films to produce Bruce LaBruce's Gerontophilia
The $2 million indie film from the veteran Toronto director is described by Filmoption International's Andrew Noble as "the gay Harold and Maude."
CMPA shortlists producers for $10,000 award
Five producers are in the running for the Canadian Media Production Association's Feature Film Producer's Award.