Jeanne Beker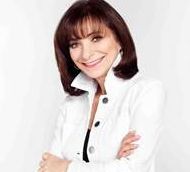 Jeanne Beker signs with Rogers Media's Shopping Channel
Beker becomes the channel's "style editor" and the face of a new show, Style Matters with Jeanne Beker.
Victor Loewy, Ian Greenberg to receive Academy special awards
The ACCT has also announced an engagement strategy that lets fans vote for Canada's Screen Star and also gives them a chance to attend the live Screen Awards broadcast.
Original screen content core to Sympatico rebranding
As part of the relaunch as The Loop, Bell Media VP of specialty channels Catherine Macleod adds managing screen content destined for the web portal as part of her responsibilities.
Sarah Gadon named WIFT-T's international Crystal Award winner
Jeanne Beker will host the Dec. 4 awards gala, where Cosmopolis actor Gadon (pictured) will be recognized for her body of work in Canada and abroad.
Jeanne Beker provides details on what's next for her career
The style maven tells Playback about her plans for a multi-platform program anchored more closely to viewers' own lives.