Jay Firestone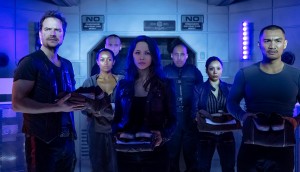 Production underway on Dark Matter season three
The intergalactic sci-fi series will return to Bell Media's Space channel and NBCUniversal's Syfy in 2017.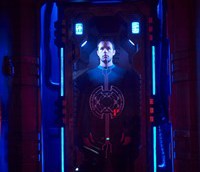 Dark Matter premieres brightly on Space
The Prodigy Pictures series bowed on Space on June 12 at 10 p.m., with the second episode to air after the premiere of Killjoys this weekend.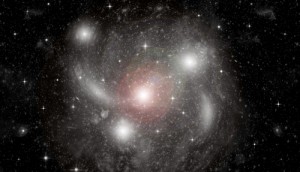 Canadians light up lead roles in Prodigy's Dark Matter
The Toronto-shot series from Prodigy Pictures and creators Joseph Mallozzi and Paul Mullieis is to air on Syfy and will start shooting in Toronto on Jan. 7.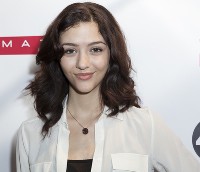 Chris Trebilcock's The Dark Stranger completes casting
Katie Findlay (pictured), Enrico Colantoni, Stephen McHattie, Mark O' Brien, Alex Ozerov and Jennifer Dale form the ensemble cast for the psychological thriller.
Showcase renews Lost Girl for fifth season, Syfy undecided
The cameras will roll on another 13 episodes of the sci-fi series in the spring, ahead of a fall 2014 debut for the fifth season.
Lost Girl adds Copper's Kyle Schmid as guest star
Linda Hamilton is also reprising her third season guest role as a ruthless assassin in the series' fourth season, slated to premiere in November (Schmid pictured).
Cameras roll on season four of Lost Girl
The next 13 episodes of the series, which also airs on Syfy stateside, are slated to premiere on Showcase this fall.
Prodigy Pictures, Seven Arts Entertainment pen TV deal
Their new TV production joint venture's slate includes series Johnny Mnemonic, a spin-off of the Keanu Reeves-starring film (pictured).
Lost Girl third season January launch to include special, new app
The tie-in app is to feature an original storyline penned by the show's writers and lets users create their own mystery-solving character.
Linda Hamilton to guest star in Showcase's Lost Girl drama
The Terminator star (pictured) is to play the role of Acacia, a tough, sexy and ruthless assassin that spells trouble for Bo in the upcoming third season.
U.S. ReelzChannel acquires Canadian drama XIII
The Toronto-shot action thriller was co-produced by Prodigy Pictures and Luc Besson's French production company EuropaCorp Television.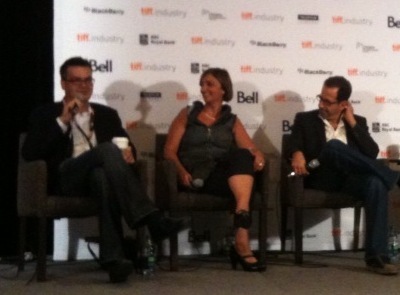 TIFF 2011: Neuromancer is 'not one medium yelling at the other'
Panelists Jay Firestone, Vincenzo Natali, Trevor Fencott and Francesca Accinelli talk about adapting William Gibson's Neuromancer into a film and game.