Jared Keeso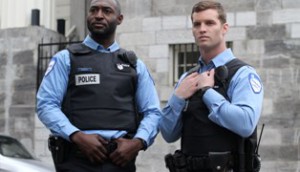 19-2 reboot debuts strongly on Bravo
The specialty channel got its best bow from an original series since The Borgias.
Content TV takes int'l rights to Bravo's 19-2
The distribution deal for the English-language adaptation of the popular Quebec cop drama comes ahead of its premiere this week.
Podz on gritty, real-life roots of 19-2 cop drama
"I always found that if you're uncovering the human condition, people will connect," the Quebec director (pictured) said in Cannes of the French-Canadian cop drama now being adapted for English-speaking Canada by Bell Media.
Production starts on 19-2, Bravo's Quebec cop drama adaptation
Benz Antoine (pictured), Maxim Roy, Isabelle Latendresse and Laurence Lebouef have joined the cast for the English language version of the popular French-language series.
Bravo acquires 19-2 from Sphere Media Plus and Echo Media
The French-to-English TV adaptation of a popular Quebec cop drama will be broadcast in early 2014.
Don Cherry sequel entering production
The cameras start rolling in Winnipeg for Keep Your Head Up Kid: The Sequel.