James Milward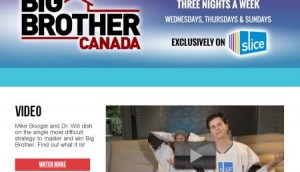 Big Brother Canada previews its digital side
Shaw Media's homegrown version of the international franchise will include an interactive platform that gives Canadians the ability to control the outcome of the show.
James Milward talk to kick off rebranded ACCT workshops
The announcement comes as the Academy makes a final membership drive ahead of the voting for the inaugural Canadian Screen Awards, the nominations for which are unveiled Tuesday.
Secret Location launches industry Facebook app
Fanviewr allows content creators, distributor and producers to more easily make show websites, company founder and exec producer James Milward tells Playback.
Audience numbers key in showing digital ROI success, developers say
The so-called freemium model, which provide free trials of content with online properties, is showing great promise as a marketing and sales tool.
King builds its case online
The King Case Files, an online docu-series that mixes show footage and factual interviews with crime experts, will promote the show's second season in advance of the Feb. 29 premiere.
Canadians fly high at International Digital Emmys
Four Canadian projects are nominated across three categories, including Secret Location's Endgame Interactive: Facebook Episode and the NFB and Arte France's Bar Code.
Trans-media production: three heads are better than one
Just how collaborative is trans-media story-telling? That question came up Friday at the latest iLunch 9 gathering as panelists considered how best to secure partners to tell stories across multiple media platforms.
Bringing Juno to life for Remembrance Day
Telling the true gritty stories of war can be quite the undertaking. Throwing an interactive component on top of that? Even more so. Here's how new media house Secret Location, Windup Filmworks and Shaw Media brought docudrama film Storming Juno to life in the digital world.
YTV's In Real Life spans transmedia
The online extension of the youth-focused reality show, which allows fans to create their own narrative alongside the show, is attracting an enthusiastic following.