Ira Levy
Breakthrough presells Zerby Derby to Sprout
The Toronto-based producer and distributor has presold its new preschool series, Zerby Derby (pictured) to Sprout in the U.S. and South Korea's MBC, heading into MIPCOM next month.
Bell Media pre-gala party kicks off Toronto International Film Festival
The Roy Thomson Hall gathering this year was hosted by the media group after its takeover of long-time sponsor Astral Media (pictured: The Fifth Estate star Benedict Cumberbatch).
Breakthrough licenses two Canadian features to TMN
The Resurrection of Tony Gitone and Please Kill Mr. Know It All (pictured) will premiere on Astral's pay TV service later this year following theatrical runs.
Mark McKinney to develop new comedies for Breakthrough Entertainment
The veteran comic (pictured) has inked an exclusive development pact after work on homegrown comedies like Less Than Kind and Rocket Monkeys.
Nickelodeon hops on Rocket Monkeys
The U.S.-based company has taken the Breakthrough Entertainment property for its worldwide network.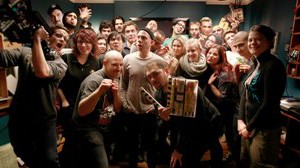 Cameras rolling on Anti Social
The horror feature, produced by Toronto-based Breakthrough Entertainment in association with Guelph's Black Fawn Films, is shooting to Jan. 25 in Toronto.
City adds Eva Longoria-starrer Mother Up! to Canadian comedy lineup
The 13-episode primetime animated series is co-produced by Bardel Entertainment and Breakthrough Entertainment (Longoria pictured), and will land on Hulu stateside.
Breakthrough Entertainment to produce CBC preschool series
The indie producer is co-producing with Little Airplane Productions The Adventures of Napkin Man as a hybrid animation and live action series.
Kenny Hotz performs first stand-up set in front of a live audience
The Kenny vs. Spenny star took to the stage at Cafe Cleopatra as Canadians make the running at the prestigious Just For Laughs international comedy festival.
Comedy orders Picnicface series from Breakthrough
Halifax sketch comedy troupe Picnicface have successfully jumped from YouTube to TV.