Home Again
Cameras roll on Muse's ABC Family TV movie
The Christmas-spirited Home Again (working title) is to be completed in time for broadcast during the U.S. network's annual countdown to Christmas campaign that starts in November.
Whistler Fest adds to Borsos competition lineup
Eight Canadian titles will compete, including Martin Laroche's Fair Sex, Sean Garrity's Blood Pressure and My Awkward Sexual Adventure and David Mortin's Mad Ship (pictured).
Harold Greenberg Fund puts equity into two upcoming features
Sudz Sutherland's Home Again and Richie Mehta's I'll Follow You Down received funding through the program.
Telefilm puts $14M into nine feature films
Denis Villeneuve's An Enemy and Jeff Renfroe's The Colony topped the funding list, receiving $3.6 million and $2.3 million, respectively.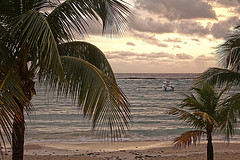 Sudz Sutherland's Home Again to shoot in early 2012
The dramatic feature about three adults deported back to the country of their birth, Jamaica, will shoot for six weeks in Jamaica and Trinidad.