Halifax
Production underway on Hard Drive
The film about coming of age in a digital millenium, written and directed by William D. MacGillivray, is shooting to Nov. 30 in Halifax.
Frontier Developments opens office in Halifax
The U.K.-based game developer has created 20 jobs so far and is looking to add more programmers, game designers and senior artists to its roster.
Halifax hosts shoots for The Khouris and Seed comedy pilots
Rizwan Manji (pictured) is taking the lead as Dr. Bob Khouri in the CBC pilot from Los Angeles-based Tim McAuliffe.
Deepa Mehta, Shandi Mitchell pics to get gala treatment in Halifax
Midnight's Children and The Disappeared, which was shot off of Nova Scotia, will receive red carpet treatment at the Atlantic Film Festival (Mitchell pictured here).
Cory Monteith living out the dream in Canadian film role
The Glee star talks about finding inspiration in Gia Milani's script for All the Wrong Reasons, which has him on a Halifax film set through mid-August.
All the Wrong Reasons in production in Halifax
The debut feature from writer-director Gia Milani (pictured), starring Cory Monteith, Emily Hampshire, Kevin Zegers and Karine Vanasse, will shoot through Aug. 15.
Eastlink TV unveils local programming shot in HD
The Halifax-based regional telecom's HD channel offering comes online July 1.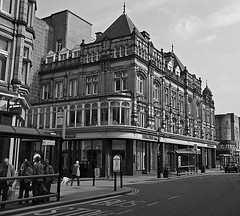 Canadian soft money: a haven for foreign producers eyeing copros?
International coproductions and new models of indie financing will topline the Strategic Partners conference at the Atlantic Film Festival.