Glen Gould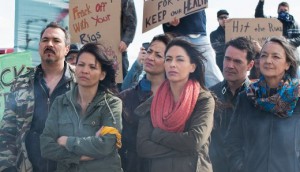 Cameras roll on fifth season of APTN's Blackstone
The latest cycle from Prairie Dog Film + Television is shooting in Edmonton through June 2015.
Production begins on Mohawk Girls
The half-hour dramedy for APTN and OMNI Television from Rezolution Pictures is shooting in Quebec.
Mohawk Girls gets the greenlight
The six-episode dramedy, produced by Montreal-based Rezolution Pictures, is slated to begin production in spring 2013 and will air on both APTN and OMNI Television.
ImagineNATIVE Festival fills out film lineup
Michael Melski's thriller Charlie Zone (pictured), Lance No's China doc Dung and James Diamond's The Man from Venus are the latest titles added to the 13th edition.
APTN greenlights Mohawk Girls from Rezolution Pictures
Also on the production front, OLN has pacted with BBC America and UK's Channel Five to co-produce Wild Things, a travel series in search of wild insects.