financial results
Weak film slate dents Lionsgate's Q2 results
The Vancouver-based mini-studio saw earnings and revenue fall ahead of the Nov. 22 release of The Hunger Games: Catching Fire (pictured).
BCE gaining ground on cable rivals with Fibe TV offering
The third quarter sign-ups brings the subscriber base for the IPTV service to 420,000 Canadians, compared to 200,000 in the same period of 2012.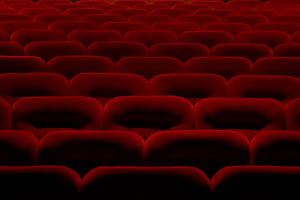 Cineplex posts record Q3 revenue, lower earnings
Acquisition costs and higher operating expenses dented the bottom line as the Canadian exhibitor welcomed a record 19 million guests into its theatres during the latest financial quarter.
Rogers, Shaw report quarterly revenue growth
Elsewhere, Corus Entertainment, which released its Q4 and fiscal year-end results Thursday, reported an increase in specialty advertising revenues.
Lionsgate turns first quarter profit, sending shares to new high
The Vancouver-based mini-studio showed underlying strength in home entertainment, TV and digital media revenues (Mad Men pictured).
Cineplex second quarter earnings and revenue rise
More theatres and a mix of Hollywood blockbusters (pictured: Star Trek Into Darkness) helped the exhibitor post a record quarter in total revenue.
Cogeco Q3 earnings virtually unchanged, despite revenue rise
Recent acquisitions boosted the revenue line, while the profit line was offset by purchase costs.
Corus Entertainment posts higher Q3 earnings
A one-time gain from the sale of a Food Network Canada stake offset radio advertising softness and lower merchandising and distribution revenues.
Newspaper losses halve Quebecor Q1 profit
The company's TVA Group subsidiary separately reported on Tuesday a first quarter loss of $5.9 million for the three months to March 31, compared to a loss of $39.9 million a year earlier.
Imax posts higher first quarter earnings
Despite fewer theatre signings and installations, the giant screen exhibitor continues on a profitable course.
Corus Entertainment's Q2 profit down
Lower TV and radio station revenue reduced earnings at the Canadian broadcaster.
Theatre network growth helps Imax double Q4 earnings
The giant screen exhibitor also increased revenue from digitally re-mastering Hollywood and other foreign film titles for its expanding global footprint.