financial earnings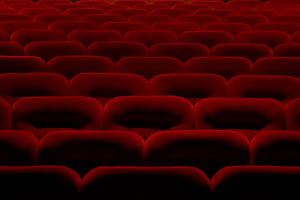 Cineplex posts record Q3 revenue, lower earnings
Acquisition costs and higher operating expenses dented the bottom line as the Canadian exhibitor welcomed a record 19 million guests into its theatres during the latest financial quarter.
Lionsgate turns first quarter profit, sending shares to new high
The Vancouver-based mini-studio showed underlying strength in home entertainment, TV and digital media revenues (Mad Men pictured).
Imax unveils higher earnings, 120 theatre deal in China
The deal with Wanda Cinema will see the Canadian-based giant screen exhibitor open up more screens in the fast-growing Asian market.
Cogeco Q3 earnings virtually unchanged, despite revenue rise
Recent acquisitions boosted the revenue line, while the profit line was offset by purchase costs.
Newspaper losses halve Quebecor Q1 profit
The company's TVA Group subsidiary separately reported on Tuesday a first quarter loss of $5.9 million for the three months to March 31, compared to a loss of $39.9 million a year earlier.
Astral Media posts higher earnings
The Q2 results come just weeks ahead of the May 6 CRTC hearing to consider BCE's second application to acquire the indie broadcaster.
Quebecor posts lower Q4 earnings after management shakeup
The Quebec media giant saw net income fall due to one-time items, days after Groupe Videotron boss Robert Depatie was named to replace Pierre Karl Peladeau as head of the Quebec media giant.
Theatre network growth helps Imax double Q4 earnings
The giant screen exhibitor also increased revenue from digitally re-mastering Hollywood and other foreign film titles for its expanding global footprint.
DHX Media upbeat about digital distribution revenues
The family and kids producer, having recently acquired Cookie Jar Entertainment and its programming library, points to increased deals with emerging digital platforms like Netflix and Amazon.
Cineplex posts record results for Q4 2012
New theatres and Hollywood releases helped the exhibition giant take advantage of record attendance at its cinemas in 2012.
Corus raises Q1 earnings, despite overall revenue fall
The indie broadcaster saw lower TV ad sales impact its revenue line, as higher radio returns offset a fall in overall TV revenue.
Astral, Shaw report Q1 results with TV ad revenue stability
Both media groups reported higher TV ad sales, despite an uncertain economic climate.