Evan Goldberg
Doreen Holmes moves to Integral Artists
The former Lucas Talent literary agent will focus on episodic writer's rooms and set up new TV series in Canada and the U.S.
Goon receives Golden Box Office award
eOne Films Canada's Noah Segal and the film's actor-co-writer Jay Baruchel on the hockey comedy's $4.1 million domestic box office performance in 2012.
Scribes Jay Baruchel, Evan Goldberg at work on Goon sequel
A script is in the works for the second installment of the Michael Dowse-directed comedy (original film pictured) that Alliance Films released in Canada and Entertainment One in Britain.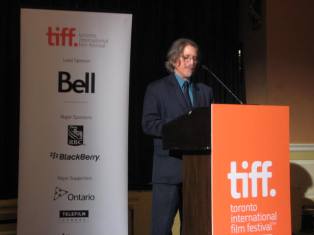 Talking TIFF: Gravestock on Canadian film selection
The festival's Canadian Programming exec talks to Playback about this year's selection process.
Levy a new Goon
Eugene Levy is reportedly joining the cast of Michael Dowse's hockey comedy Goon, currently shooting in Winnipeg.
Liev Schreiber joins Michael Dowse's Goon
Liev Schreiber is lacing up his skates for the Michael Dowse theatrical comedy Goon, which is set to start shooting in Winnipeg from October 18.
New projects land Harold Greenberg Fund investment
A number of high-profile projects will be receiving support in the latest round of Astral's Harold Greenberg Fund's English-language program via the Equity Investment Program.