Elvira Kurt
CHCH announces Channel Zero Digital and a new fall lineup
New additions to the fall line-up and a growing online presence were announced Tuesday to celebrate the Hamilton network's 60th year (Spin Off pictured).
CHCH buys Mark Burnett game show
Spin Off from Suddenly SeeMore Productions will debut on the indie broadcaster in fall 2013, before being shopped, along with the original format, to international broadcasters.
Tatiana Maslany, Shawn Doyle win at ACTRA Awards
Shannon Kook-Chun won for outstanding voice performance, while Shirley Douglas received ACTRA Toronto's 2013 Award of Excellence at the Saturday awards event (Maslany pictured).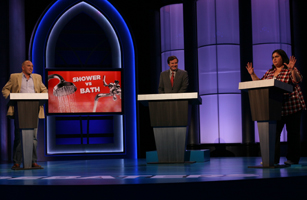 The Debaters kicks off production in Vancouver
CBC Radio comedy show The Debaters was initially pitched for TV but it's finally getting the small screen treatment.