David Sutcliffe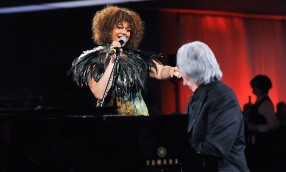 Photo Gallery: 2014 CFC Annual Gala & Auction
Canadian industry talent, personalities and execs gather at The Carlu in Toronto for the annual gala event. (Measha Brueggergosman and Bill King pictured)
MIPCOM13: Cracked cast in Cannes pays off with European sales
German distributor Beta Film racks up more sales for White Pine Pictures' cop drama on CBC.
Second season shoot for Cracked gets new showrunner
Bruce Smith will stickhandle the sophomore season for the CBC drama, which also sees Brooke Nevin (pictured) replace Stefanie von Pfetten in the lead role opposite David Sutcliffe.
ReelzChannel buys Cracked drama for U.S. market
The sale of the White Pine Pictures police procedural follows a promotional push at MIPCOM for the Canadian import.
Cracked sold to Astral's Series+
The upcoming procedural cop drama from Toronto-based White Pine Pictures is slated to premiere on CBC in January.