Daniel Dales
Smokebomb Entertainment's Synful business
From our latest print issue – how the Shaftesbury co's edgy new transmedia property State of Syn is redefining in-your-face entertainment.
Digital Howard does online aftershow for The Project
The digital extension will see participants in the City and OLN doc-reality series engage with fans of the TV show from Buck Productions.
CHCH announces Channel Zero Digital and a new fall lineup
New additions to the fall line-up and a growing online presence were announced Tuesday to celebrate the Hamilton network's 60th year (Spin Off pictured).
Daniel Dales, Jarrett Sherman launch Digital Howard
The new venture's first project is producing the digital media extension of upcoming CHCH game show Spin Off (Dales and Sherman pictured).
CTV flicks a digital Switch
The six ep digital series, a spin-off from the The Listener, will act as an extension to the primetime drama.
Daniel Dales and Jarrett Sherman exit Smokebomb Entertainment
The co-founders of the digital producer, acquired by Shaftesbury Films in 2008, are "moving on from their roles in order to pursue other opportunities."
Shaftesbury and Smokebomb Entertainment behind State of Syn
The futuristic web drama, to star Jewel Staite, David Hewlett and Rainbow Sun Francks, will start production in Toronto in early April.
Canadians fly high at International Digital Emmys
Four Canadian projects are nominated across three categories, including Secret Location's Endgame Interactive: Facebook Episode and the NFB and Arte France's Bar Code.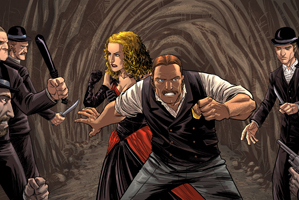 Smokebomb launches Murdoch web series
Shaftesbury's interactive arm taps a DC Comics artist to lend an animation/live-action style to its extension of the Murdoch series.