Cory Monteith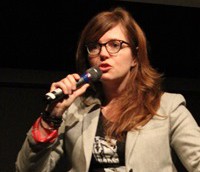 Lindsey Hodgson promoted at Pacific Northwest Pictures
The new assignment comes as the indie distributor expands Le Week-End to 12 markets and opens Cas & Dylan this weekend. (Lindsey Hodgson pictured)
Cory Monteith's parting gift to Vancouver's Project Limelight
The late Glee star (pictured) supported the free performing arts society for kids in the city's downtown east side before he died of a tragic overdose.
Canadian filmmakers recall Cory Monteith as a down-to-earth, generous actor
Vancouver director Carl Bessai and Halifax writer-director Gia Milani talk to Playback about working with the Glee actor (pictured).
Canadian actor Cory Monteith, 31, dies in Vancouver hotel room
The Glee star (pictured) shot to fame in Hollywood as the character Finn Hudson on the Fox dramedy before returning to Canada to host the Gemini Awards in 2010.
Weekly roundup: Award noms, renewals and premieres
Lionsgate's B.C.-shot Cabin in the Woods (pictured) received a best sci-fi/horror movie category nomination in the Critics' Choice Awards, and word comes that Film Nova Scotia is being overhauled.
Sisters & Brothers dominates UBCP/ACTRA awards in Vancouver
Camille Sullivan won for best actress and Kacey Rohl took top honours for best newcomer for their star turns in the Carl Bessai feature (pictured), which earlier this year won big at the Leo Awards.
Cory Monteith living out the dream in Canadian film role
The Glee star talks about finding inspiration in Gia Milani's script for All the Wrong Reasons, which has him on a Halifax film set through mid-August.
Less Than Kind wins big on final night of Geminis
The team behind Less Than Kind has proven again they know funny, snapping up a trio of trophies at the Gemini Awards broadcast gala in Toronto Saturday night.