Come Dine With Me Canada
W Network unveils fall sked
The Corus specialty channel is launching new seasons of homegrown series like Property Brothers (pictured) and Come Dine With Me Canada.
W Network boosts second screen experience with revamped site
The Corus Entertainment specialty network is focusing on second screen content and editorials to accompany its programming on WNetwork.com.
Proper serves up more Come Dine With Me Canada
The Toronto-based indie will produce 80 episodes for the fourth season of the W Network food series, which will travel across Canada and include themed blocks.
Renewals round-up: Bull riders, cops and singing Canadians
Hell on Hooves, Call Me Fitz, Rookie Blue, Canada Sings and Come Dine with Me Canada will return with new seasons.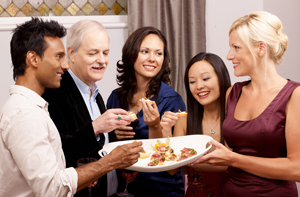 Proper serves up new eps and season orders
It's been a good start to 2011 for Proper Television, as the Toronto prodco begins production on 80 new eps of Come Dine With Me Canada and gets the greenlight for new seasons of Canada's Worst Driver and Canada's Worst Handyman.