Banff 2013
Banff: Americans more willing to work with Canadians on TV copros
"For the first time, you will see the shows treated the exact same way as shows we develop," NBC Entertainment president of planning Jeff Bader (pictured) told a festival panel, of working with foreign partners.
Industry orgs launch national marketing initiatives
A national strategy called Eye on Canada will promote Canadian content and talent, while a new mentorship program will help producers learn the art of marketing.
Banff: CRTC's Blais on updating TV sector regulations
CRTC chair Jean-Pierre Blais (pictured) told festival delegates that the Canadian regulatory framework needs to shift from rules to outcomes, and constraint to choice.
Michael Hennessy urges grassroots promotion of Canadian content
"Do your thing. It doesn't matter. We're not going to tell you what to do," the producers lobbyist (pictured) told a Banff festival panel on the industry-wide national promotional strategy.
Carmen Lago, Tony Chapman unveil BCT
BCT will create original multiplatform content incorporating brands into stories, and work with brands to increase ROI through non-traditional media buys (Lago and Chapman pictured).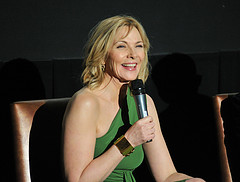 TMN, Movie Central unveil 2013 production slate
The slate features six Canadian productions, including half-hour comedy Sensitive Skin, starring Kim Cattrall (pictured) and Don McKellar, who also directs.
PNI policy generates over $1 billion annually of TV spending: report
The report, prepared by Nordicity, analyzed the likely impact of the CRTC programming policy on English-language television production between 2012 and 2017.
David UK, Stephen Tapp combine to launch Bent venture
The cross-platform branded entertainment upstart will also have industry veterans Christopher Grimson and James Hyslop as founding partners (UK pictured).
Jill Golick sells Ruby Skye P.I. web series to CBC
The pubcaster is to stream the teen/tween detective mystery series (pictured) in winter 2014, before combining internet TV episodes into a broadcast hour for its main network.