Andrea Martin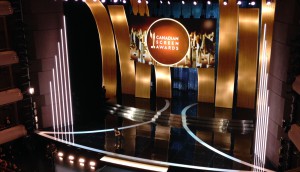 Canadian Screen Awards hold steady on ratings
The Screenies added about 10,000 viewers over last year's overnights, holding at around half a million viewers.
Andrea Martin to host 2015 Screenies
Following in the footsteps of Martin Short, Canadian comedian Andrea Martin is stepping in to host the next Canadian Screen Awards.
SCTV alumni align for Working The Engels
Martin Short and Eugene Levy are set to guest star alongside lead Andrea Martin in episodes of the new comedy.
NBC to coproduce Working the Engels
The deal marks the first time a U.S. network and Canadian broadcaster have collaborated to produce a half-hour network comedy (star Andrea Martin pictured).
Working the Engels adds guest stars
Among the Canadian actors taking on guest roles is Colin Mochrie (pictured), who will play a long-suffering accountant at the family law practice.
Kacey Rohl joins Working the Engels
The Canuck actor (pictured) joins Andrea Martin in Global's upcoming comedy series written by Katie Ford and Jane Ford and produced by Halfire-CORE Entertainment.
Andrea Martin joins Working The Engels as lead
The Global Television comedy from sister screenwriters Katie and Jane Ford and Halfire-CORE Entertainment will shoot in the fall (Martin pictured).
Fugget About It headed to Teletoon at Night after five-year journey
The kids comedy hails from Teletoon at Night's Pilot Project, which was launched in 2007.
Andrea Martin pulls out as 2012 Genie Awards co-host
The SCTV star will leave George Stroumboulopoulos to fly solo Thursday night in Toronto as she reportedly jets off to a CBS comedy pilot gig.
Andrea Martin and George Stroumboulopoulos to host Genies
The Academy of Canadian Cinema and Television has rolled out the local talent for the March 8 film awards from Toronto on the CBC.