Amy Price-Francis
Showcase cop drama King not renewed
King, a home-grown cop drama lensed in Toronto, was anchored to the character Jessica King, played by Amy Price-Francis (pictured).
Plummer, Amy Price-Francis win ACTRA Toronto acting trophies
The Toronto branch honoured its own for the best performances in Canadian film and TV at the Carlu on Feb. 25.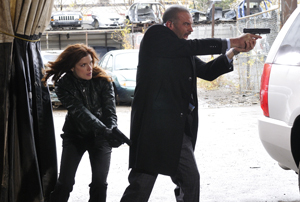 Showcase drama King sold to French broadcaster M6
International distributor Beta Film is also eyeing broadcast deals for King in Germany, Italy, UK and Spain.
King in production in Toronto
The cameras are rolling on King, the eight-part female cop drama from indie producer Indian Grove Productions.