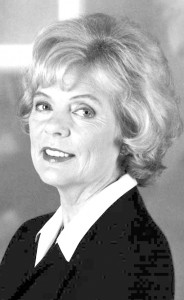 This article was originally published in 2008
If you're talking television, Trina is one of the few executives who doesn't really need a last name. Most everyone knows her, respects her, and – perhaps most unique in an industry known for bold criticism – likes her. Not in a 'gee, she's so nice' kind of way, but in a more formidable manner.
'I associate Trina with having been at all these turning points [in] the industry over her career, and of having had a big hand in shaping the industry as we see it today,' says producer and distributor Stephen Ellis, who has worked with her many times in the last three decades.
'I don't know if she plays chess, but I think of her as being two moves ahead of everybody else,' Ellis says. 'She's really in a league of her own.'
As a journalist or senior executive in both public and private broadcasting (and now in pre-retirement), Trina McQueen's 40-plus-year career is an impressive assemblage of firsts and accolades.
'Trina is a titan, no doubt about it,' says Canadian Association of Broadcasters president and CEO Glenn O'Farrell. 'She is a unique and singular voice that broadcasting in Canada has enjoyed for many years.'
McQueen rapidly made her way up executive ladders that are typically male-dominated – and she busted more than one glass ceiling en route to the top.
Even early in the game, McQueen was the first female reporter for CFTO; first female co-host of W5; and, upon joining the CBC in 1967, the first on-camera female reporter on The National. Then, at 33, she became the Ceeb's first female executive producer.
McQueen was at the helm for the CBC's launch of Newsworld, as well as the NetStar launch of the Canadian Discovery Channel.
Her groundbreaking trajectory has given her a unique well-roundedness, says O'Farrell.
'We've had great operators in this industry – a long legacy of business entrepreneurs, and a fair number of equally talented visionaries, but few and far between are those who actually blend both of these ends of the spectrum,' says O'Farrell. As both a 'visionary' and 'operator' in programming services, 'Trina has shown her enduring ability to make those contributions.'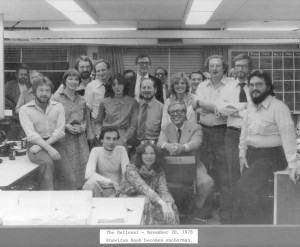 The bottom line, says Ellis, is that 'she really gets it.' McQueen is a solid decision-maker. 'Having been on both sides of the camera, and being so smart, and willing to make decisions and stick by them – it's always been a pleasure to work with her. You know you're going to get a quick 'no' or a definite 'yes,' and there's not a lot of beating around the bush. It makes life a lot simpler.'
Ellis also credits McQueen with shepherding in the new glory era of Cancon in the wake of the BCE takeover of CTV in 2000. At that point, Ellis was chair of the CFTPA and she was newly appointed president and COO of CTV.
'There was talk about how to configure the BCE benefits, and that was a real turning point for the industry,' notes Ellis. 'The BCE benefits represent the first time in Canadian broadcast history that a broadcaster stepped up and said, 'We've got all this money, and we're going to sink it into a ton of high-quality Canadian content on a scale that's never been done before."
With fare like Degrassi: The Next Generation and Corner Gas, says Ellis, the industry never looked back.
It was the tragedy of the attack on the World Trade Center that, in part, led to McQueen's surprise retirement, announced late in 2001.
'It was around Sept. 11 that I had some of the big thoughts, asked some of the big questions,' says McQueen. 'Every one of those people went to work on a normal day and this happened. Would there have been regret: 'If only I had done X-Y-Z…' So I thought the big thoughts and made the big decision.'
Stepping down did not mean stepping away. Mere months later, McQueen authored a comprehensive report on drama for the CRTC – one of the more contentious issues in this industry.
'The commission wanted to find a voice to take the vision and apply it to an operational reality from a regulator's perspective,' recalls O'Farrell. 'And who did they turn to? Trina. She was a natural.'
'Whether or not you agree with the recommendations, the analysis she did of the drama business was first-rate,' says Ellis. 'It's a worthwhile read even today in terms of getting a grip on what works and what doesn't.'
Then McQueen was appointed inaugural CTV visiting professor of broadcast management at the Schulich School of Business at York University, where Joyce Zemans, director of arts and media administration, says she has made 'an enormous contribution. She is a phenomenal teacher. She knows the industry so well, but is also able to convey her knowledge of management issues of the industry.
'[McQueen] has brought an enormous wealth of experience to her work at Schulich,' says Zemans. Most recently, she facilitated a partnership between Women in Film and Television and Schulich to offer a Business Management for Media Professionals program.
McQueen is also on the board of the CBC, McClelland and Stewart publishers, the Canadian Opera Company and Historica.
For her part, McQueen says, 'I think we have a Canadian view of our achievements in broadcasting that's a very modest and very humble view. We are too modest and too humble about what can be done and what has been done in television. Canada is an outstanding success in television. It has produced some of the world's most talented performers, writers and directors, and it has produced extraordinarily interesting, inspiring, funny and engaging programs, which the world recognizes. And they've done it against obstacles of geography and funding that very few other countries face.'