This article was originally published in 2008
When Vancouver-born Allan King made his first film Skidrow, about that city's Downtown Eastside, in 1956, Louis St. Laurent was prime minister, the Montreal Canadiens were winning their first of five consecutive Stanley Cups, and that year's crisis in the Middle East was at the Suez Canal.
Fifty-two years later, he is the second inductee in the creative category of the Canadian Film and Television Hall of Fame. It's a highly deserved accolade for the versatile director who helmed the classic feature drama Who Has Seen the Wind (1977) and many award-winning TV series, but is best known for his hard-hitting, compassionate but controversial documentaries Warrendale (1967), A Married Couple (1969) and Dying at Grace (2003).
After receiving retrospectives in Toronto, Rome and London, a major prize at Cannes for Warrendale, and laudatory reviews in The New Yorker, Maclean's and The Observer for a number of his films, it's fair to wonder how excited King can be about this latest acknowledgement. 'I used to pretend that it didn't mean anything to me. But that's not true. I lust after them,' admits King, with a trace of amusement in his eyes. But the bearded, bespectacled director is clearly sincere when he adds: 'It's a great honor to be recognized by your colleagues.'
King continues to be the recipient of many critical salutes. He's off to Krakow later this month to receive that festival's Dragon of Dragons lifetime achievement prize, an award previously won by Albert Maysles and Werner Herzog.
Sturla Gunnarsson, president of the Directors Guild of Canada, a role that King once held, hails him as 'one of the only filmmakers alive that actually [helped to] create a genre of filmmaking – the direct cinema.'
York University professor Seth Feldman, who curated the Toronto International Film Festival's King retrospective, characterizes Warrendale – about a residential treatment center for emotionally disturbed children – as 'pure cinéma verité: the decisions made of what to show and what not to show – how to organize the material – was dead on.'
Ironically, King prefers the term 'actuality drama' to those used by Gunnarsson and Feldman. 'The fact is, what I do ain't the truth, direct or otherwise. The truth is unknowable.'
Sitting in his office in a prestigious Toronto hotel where actor John Neville occupies the neighboring suite, King is characteristically opinionated, but his fiery demeanor seems tamped down. Perhaps age – King is 78 – or the growing recognition for his work has made him sanguine. Always philosophical, he is charmingly humble when asked to reflect on his past.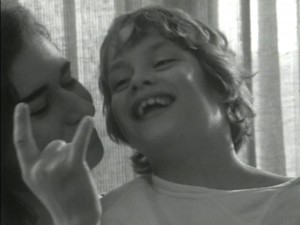 Speaking of Warrendale (pictured right), the film that pulled him into the first rank of documentary filmmakers, King is no longer interested in condemning the CBC for commissioning and then refusing to broadcast the work.
'The truth is I made Warrendale for selfish reasons,' he says candidly. 'I wanted to understand issues around childhood. I come from a broken home. It took me 40 years to grow up enough to forgive my parents and realize that they were human and that they weren't setting out to injure me. They did everything possible not to. But I was very angry, and that anger got in my way for much of my life.'
King takes a sip of chai tea and continues: 'I really was drawn to Warrendale because these were kids who were troubled. They had been adopted or were foster children and had received terrible treatment. And here they were in a place where they were allowed to express themselves as fully as possible. Furthermore, they were contained in such a way that they couldn't injure themselves or anybody else or any property, and express the things that all people, and particularly all children, feel. And you can see it.'
King became interested in the working methods of psychologist and educator John Brown because, he now states, 'I had my own issues. I also needed some sort of psychotherapeutic assistance.'
Brown's methodology, which insisted on caregivers holding the children while they expressed themselves, upset many people, including the producers at the CBC, who effectively banned the documentary. They didn't want to broadcast children cursing, but King realizes that 'I did probably want some kid screaming with rage on my behalf. And do the screaming I never got to do as a kid.'
In a characteristically Canadian compromise, the CBC allowed King to screen Warrendale, so it ended up in a special section at the 1967 Cannes festival, where it won a 'prix d'art et d'essai,' and King's international reputation as a fiercely independent filmmaker was sealed. On the walls in his office, King has a framed poster of the film and a letter sent by the legendary director Jean Renoir heralding him as 'a great artist' for having the courage to make Warrendale.
Two years later, King solidified his reputation with A Married Couple, an unflinching examination of the power dynamic between a Toronto husband and wife who found their relationship threatened during the late-'60s free-love era. Regrettably, his next feature doc, Come on Children (1973), was a critical and box-office flop, forcing the ever-resilient King to move into dramatic filmmaking.
There he had successes with Who Has Seen the Wind (starring Gordon Pinsent and Helen Shaver) and the CBC dramas Maria (1977) and One Night Stand (1978), but King's later features, Silence of the North (1981) and Termini Station (1989), didn't garner critical or popular acclaim. Accepting what he calls 'a professional role,' King continued his career, directing TV series, ranging from Alfred Hitchcock Presents (1987-89) to episodes of Road to Avonlea (1991-96).
In a turn worthy of Hollywood, King's career suddenly shifted back to high gear in the late '90s, thanks to the intervention of Rudy Buttignol, then the creative head of programming at TVOntario. It was Buttignol who finally put Warrendale on television after 30 years, where, he says, it garnered 'the best numbers for any Canadian documentary ever on The View From Here.'
Buttignol commissioned four docs from King, including the brilliant Dying at Grace. 'I've joked with Allan,' says Buttignol, 'that my legacy will be that 'I'm the guy who brought you back to documentaries." Certainly Dying at Grace, another purportedly 'selfish' King project brought on by the director's fascination with death as he got older, is another masterpiece.
It may be the final one. When asked about future projects, King becomes reticent. 'I have to get my own place tidied,' he says. 'I haven't had time for housekeeping for a long time; too busy making films.'
Editor's note: Allan King passed away in 2009, at age 79