By Chris Metler
Shirley Cheechoo is one of Canada's most iconic filmmakers, actors, writers and mentors. But, to really understand what makes her tick, you need to get the perspective of those who have worked closest to her. Someone like award-winning actor, producer and industry veteran, Jennifer Podemski.
Despite everything she has accomplished in her own career, when the subject turns to fellow actor and producer — and writer, director, playwright and visual artist, if you're keeping score — Cheechoo, Podemski doesn't hesitate to categorize her friend as being in a class of her own. "She's in another stratosphere," she says.
While the two worked together in 1996 on CBC's short-lived but critically acclaimed The Rez, there's one particular anecdote that Podemski likes to tell, from back when they both happened to be living in New York in the late '90s. At the time, Cheechoo was finishing up Backroads, her debut feature. A journey into the harsh contemporary life of Cree women, Backroads would make Cheechoo the only First Nations woman to have ever written, produced, directed and acted in a feature-length film from Canada.
The way Podemski remembers it, one evening Cheechoo invited her to visit the edit suite. Between assembling shots, Cheechoo revealed how she didn't approve of the way the original company she was working with had cut the film; and how she went ahead and raised a million dollars to buy back her copyright and complete it the way she envisioned.
"Shirley was editing this movie and nonchalantly telling me all this, as if it wasn't the biggest deal in the world," reminisces Podemski, still seemingly in awe. "I just sat there and I thought: 'Oh my god! This is the measure of integrity that I would like to base my career on.'" To this day, she readily admits that her primary aspiration remains to match both Cheechoo's level and quality of vision.
A member of the Cree nation, Cheechoo was born in Eastmain, Quebec, before growing up in the Cochrane District in Northeastern Ontario. After spending her early years on traplines with her parents and brothers, she was sent to a residential school at the age of nine – a government-sponsored religious institution established to assimilate Indigenous children into Euro-Canadian culture. Here, like so many other residential school survivors, she experienced violence and abuse. And later, she spiraled into addiction.
"What I have to offer is a path. Clearing that path for the young people coming behind our generation is a very difficult journey — one of the toughest I've ever had." – Shirley Cheechoo
Not surprisingly, Cheechoo looks back on this stretch as an extremely arduous time in her life. Luckily, as one of several young Indigenous students who enrolled at the Manitoulin Arts Foundation back in the summer of 1971, she found a mentor in Tom Peltier, co-author of the bestselling novel Bearwalk, considered a window into the world and culture of the First Nations. For untold First Nations artists, actors and writers of international prominence, Peltier proved to be that early and essential spark.
Peltier showed her the way to a new, better life. "He taught me that I had a voice and if I wasn't able to speak it out loud, I could do it in different forms – in the arts," she warmly recalls. "I took on that challenge and discovered that I did have a voice."
She subsequently threw herself head-first into all available vehicles of artistic expression. She enrolled in everything from acting workshops and writing classes to film schools and director's labs, eventually garnering global acclaim for the plays she penned (Path with No Moccasins, 1991; Tangled Sheets, 1994; and Your Dream Was Mine, 2005), as well as her films (notably, the aforementioned Backroads, 2000; Johnny Tootall, 2005; and Moose River Crossing, 2013), winning honours at the American Indian Film Festival and Sundance.
It's Moose River Crossing that perhaps best exemplifies Cheechoo's dedication to exploring themes of healing and post-trauma survival, and to easing a pain or raising an issue with her work. The picture examines the residential school system through the eyes of six fictional former students who meet at a train station to head to a reunion. They flash back to the troubling times they experienced at the school and aim to answer the question of whether or not time heals all wounds. Needless to say, Cheechoo scripted the movie based on her own history growing up in residential schools.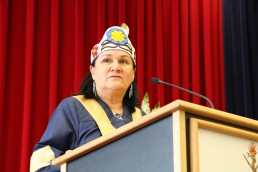 With the rest of her output similarly shaped by her First Nations background, thereby transforming Cheechoo into an experienced and trusted advisor for so many in the Native arts community, she's gained recognition as one of Canada's most respected artists. Although despite her groundbreaking résumé, Cheechoo never seemed all that content or concerned with her own triumphs. What she's desired, instead, is to bring these same forms of artistic expression back to her community, and to demonstrate to young people that the arts can be a very powerful medium.
"Without having to speak one word," she explains, "you can say what you need in a film, you can say it in a painting, you can say it in writing. The system really works if you use that as an educational tool."
As part of that effort to educate, inspire and entertain, in 1984 she co-founded the Debajehmujig Theatre Group, one of the world's foremost independent Native companies. Meanwhile, while shooting her feature film Bearwalker in 2002, Cheechoo was amazed at how many youth were itching to get involved in filmmaking. So, that same year, she also initiated the Weengushk Film Institute, which develops media arts skills for Indigenous youth and persons of diversity. (Both were established on Manitoulin Island.)
Since 2015, she's served as the eighth Chancellor of Brock University, the first woman and first Indigenous Canadian to hold the position, allowing her to play a leadership position in the educational welfare of students; connecting them to the role Indigenous people have played in the development of the country, and showing how the arts can inspire people to leadership.
"What I have to offer is a path," Cheechoo quietly reasons. "Clearing that path for the young people coming behind our generation is a very difficult journey — one of the toughest I've ever had."
"She has passion for teaching, and passion for repairing trauma through storytelling and mentorship." – Jennifer Podemski
According to Brian Hutchings, Brock's VP, administration, being Chancellor is not a ceremonial title to Cheechoo. "She's down here quite regularly," Hutchings confirms. "Education wants her. Film Studies wants her. Our Social Justice and Equity Studies group wants to talk to her. She's very sought after." As such, he believes she's brought a new energy to the Brock campus regarding Indigenous culture.
As for what brings Cheechoo the most joy in this position? Make no mistake, it's knowing she has the ability to help change someone's life.
"Seeing students come through my door in despair and leave with big smiles on their faces is the most special moment for me in my work," she beams. "It makes the community realize that we have a voice — a female voice. And it also helps young people know there's more in life than what is offered in their First Nations communities, which is really little."
This is Shirley Cheechoo, an artist whose service shapes society, whose innovations ignite imaginations and whose compassion unites communities. Just don't expect to hear anything so laudatory out of her own mouth. "She's deliberate and pushes, but doesn't shove," declares Hutchings. "She is not motivated for her own self. She's motivated for others' interests, but also humble behind it all."
"I don't think she has passion for her career; she has passion for her communities and the stories that come from them, and a passion for sharing those stories," Podemski adds. "She has passion for teaching, and passion for repairing trauma through storytelling and mentorship."
What's more, as a pioneer and trailblazer in her industry, one that's been bestowed a Lifetime Achievement Award in the area of art by the National Aboriginal Achievement Foundation, the Queen's Diamond Jubilee Award to recognize her commitment to education and an honourary doctorate by Laurentian University – not to mention being named to the Order of Canada – Cheechoo has set a high bar.
And though she's had so many firsts, you won't find Cheechoo in any rush to pat herself on the back. "I'm a very simple person. I don't look at my work as my own, because I didn't do it by myself. I collaborate. I work with people. I don't look at it as me the first, I look at it as we the first," she clarifies.
"Nobody walks alone."