Phyllis Yaffe is working at her dream job. Again.
Since July 2016, the former Alliance Atlantis Communications CEO has served as Consul General of Canada in New York, where she looks to extend Canada-U.S. ties not only in the Empire State, but also in New Jersey, Connecticut, Pennsylvania, Delaware and Bermuda.
She acknowledges that it's been a challenge given the current political climate, but it's an opportunity she has embraced. And her new 20th-floor office on Lexington Avenue overlooking the Chrysler Building and Hudson River doesn't hurt.
"[New York] is a very special place to get to represent your country and provides so many opportunities," she says. "People here are very supportive and positive about Canada and lots of people ask how they can move there."
She has spent most of her time on the NAFTA renegotiation, influencing stakeholders to speak out about the importance of an open and free trade agreement among the two nations and Mexico. Now that the replacement USMCA deal is in place, she says, "getting out and meeting the many new members of Congress and new governors is the next priority."
It's a long way from Yaffe's hometown of Winnipeg, where she began her career as a librarian in the late 1960s and received a degree from the University of Manitoba, and later from the University of Alberta and University of Toronto. She settled in Toronto and worked at Seneca College in the '70s before becoming executive director of the Canadian Children's Book Centre and then the Association of Canadian Publishers (ACP) in 1980.
Five years later she was hired as VP, marketing at Owl Communications, which in addition to its print interests produced CBC kids series Owl/TV. She got further entrenched in the TV biz when she carved out time to serve as first chair of script development body FUND (Foundation to Underwrite New Drama), later renamed the Harold Greenberg Fund.
In 1993, film distribution and production house Alliance Communications needed someone to spearhead its CRTC pitch for Showcase, a specialty that would air Canadian scripted programming in second windows along with non-U.S. foreign fare. Peter Grant, a lawyer at the ACP, recommended Yaffe to Alliance chair and CEO Robert Lantos.
"She seemed perfect," recalls Lantos, who now produces under the Serendipity Point Films banner. "She has a mix of charm, diplomacy, fortitude and she shared my conviction that Canadians, given the opportunity, would watch Canadian shows in primetime."
"There are very few people in the industry who are both respected and well-liked and Phyllis is both."
Yaffe convinced the CRTC, and the application was approved on June 6, 1994. "Her sincerity about the channel's mission was genuine and it showed, and that played a role in getting the licence," Lantos says.
While becoming Showcase's president and CEO was her then-dream job, she admits to being out of her depth once the channel got the greenlight. "What I knew then and still know now is that I will always succeed if I have really smart people around me, and I had lots of really good people," she says. "They knew what they were doing and we worked as a team and found our way through the maze of what needed to be done."
They brought the channel to air at midnight on Jan. 1, 1995 with Monty Python's Life of Brian in what Yaffe characterizes as "an amazing, surreal moment."
Showcase went on to commission original content, and perhaps surprisingly, Yaffe points to Topsail Entertainment's Trailer Park Boys as the show of which she's most proud. The series about a trio of dumb but lovable East Coast delinquents aired on the station from 2001 to 2007 and was revived on Netflix in 2014. "It carries on to this day and was by no means something we thought was going to be the success it was," she says.
But Alliance wasn't done, going to bat again in 1996 for The History and Entertainment Network (H&E), but faced a formidable adversary in deep-pocketed Labatt Communications, which owned TSN, RDS and the Canadian version of the Discovery Channel. Labatt proposed a Canuck edition of The History Channel, launched stateside by A&E Networks.
Lantos and Yaffe presented to the CRTC as a good cop, bad cop tandem. "I said, 'Is that what we want – a Canadian History Channel programmed by a U.S. History Channel?' Phyllis was more tactful," Lantos recalls.
As to how underdog Alliance hit it out of the park again, Yaffe explains, "We told the commission the reason we wanted to do a history channel was because we believed Canadians needed access to Canadian history and we could do it well, and we weren't kidding."
Prior to the channel's Oct. 17, 1997 launch, Alliance changed the name to History Television and committed to annually airing 180 hours of independently produced Canadian programs.
One series that stands out for Yaffe is Frantic Films' prescient nine-episode reality show Pioneer Quest: A Year in the Real West, in which two couples rough it like 19th-century pioneers. Its 2001 finale was the highest-rated doc program to date on Canadian specialty.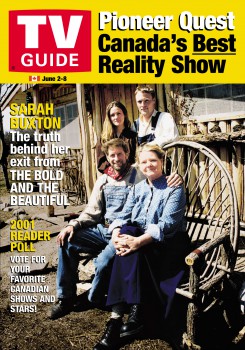 By the time it aired, History was under the umbrella of Alliance Atlantis Broadcasting (AAB), a division formed after Atlantis Communications (which owned Life and HGTV) engineered an industry-rocking reverse takeover of Alliance. Atlantis co-founder Michael MacMillan assumed the role of CEO while Lantos left. The prevailing wisdom was that Yaffe would be replaced by someone from within the Atlantis fold, but MacMillan put her in charge of the combined entity's broadcast interests.
"She is very able, likable, smart and no-nonsense – a good leader and delegator," says MacMillan, today CEO of Blue Ant Media. "She can inspire people to do their best and reach high. She expects direct answers and actions from her colleagues, yet is able to see more than one side to a problem. She was clearly super-trustworthy and reliable. She carries a bundle of wonderful skills and characteristics."
This toolset was put to the test in 2000, when she oversaw 43 digital specialty applications, 34 of which were granted, and only some of which were realized. AAB launched seven of the new channels on Sept. 7, 2001, including BBC Canada, Discovery Health and National Geographic. Their initial impact was muted by the events of September 11, but nonetheless the company was now at the forefront of Canadian specialty.
In 2004, she became COO of the entire Alliance Atlantis Communications (AAC) empire, and the following year, MacMillan, in the ultimate show of faith, handed her the CEO role as he stepped aside to focus on the company's future as executive chair.
Much had changed. The company's 50% investment in the fledgling CBS CSI series reaped rewards it could not have imagined. The program blew up into a blockbuster three-series franchise, with CSI: Miami ranked the most popular show in the world in 2005. The franchise's impact on AAC's bottom line was massive, bringing $288 million in revenues that year alone, allowing it to pay down a substantial debt load. But it was also the beginning of some ends.
"It was impossible to replicate," Yaffe says. "As a public company explaining your quarterly performance, you could never reinvent the economics of CSI. We were given the choice of, 'Where do you want to put your resources?'" Of course, AAC chose CSI – to which its main contribution was international distribution – and effectively exited from Canadian in-house production.
In 2007, AAC revealed a $2.3 billion purchase offer from CanWest Global, which desperately wanted the specialty channels, and Goldman Sachs, which had eyes on CSI. Yaffe, who had always moved forward in her career, saw no more opportunity for growth for AAC and favoured the eventual sale. (Today Corus Entertainment owns the channels, while eOne grabbed Alliance Films in 2012.)
MacMillan sought her input. "I can't stress enough how much we shared and talked through every aspect of our concerns, worries, hopes, fears and glee," he recalls. "Phyllis' thinking was completely embedded in that decision."
Soon afterwards, she announced her retirement. It didn't last. She became heavily involved on various boards, serving as chair at Cineplex Entertainment, Ryerson University and the Ontario Science Centre, board member of Blue Ant Media, Lionsgate Entertainment, Astral Media and William F. White International/Comweb Corp., and lead director of Torstar Corp.
Her husband John Feld, a writer who suffered from MS and who advocated for people with disabilities, passed away in 2016. It was for both her community service – and specifically for being founding chair of Women Against Multiple Sclerosis – and her leadership in Canada's cultural industry that she was awarded the Order of Canada in 2015. She calls it her greatest honour and wears the pin every day.
Her greatest legacies can be seen as the powerhouse specialty channels she shepherded into existence and the trail she blazed for other women in the industry. The latter is what stands out most to recently departed CBC EVP Heather Conway, who joined Alliance Atlantis in 2001 as corporate communications VP before rising to an EVP role.
"There are very few people in the industry who are both respected and well-liked and Phyllis is both," Conway says. "She was certainly a great model and mentor for me. I also think of the legacy of her leadership and the people who came under her. [The list of] all the people who worked for Phyllis and have gone on to also be champions of Canadian content is quite extraordinary."
These also include Norm Bolen, who rose to AAC's EVP content and later headed up the CMPA; Laura Michalchyshyn, AAC SVP programming and now president of Robert Redford's Sundance Productions; Andrew Akman, AAC SVP of investor relations and now COO of Cineflix Media; and Barbara Williams, AAC SVP of lifestyle programming and the newly appointed EVP of CBC.
Meanwhile, gazing upon Midtown Manhattan, Yaffe doesn't feel so far removed from the Canadian cultural business, and has brought elements of it to her mission. Coinciding with last year's Grammy Awards, the consulate general organized showcases for Canadian musicians and B2B events, and last October it was involved with four screenings of 1998 film The Red Violin accompanied by the New York Philharmonic.
"The world of the arts and culture is where I grew up," she says, "and that's where I belong."
Playback's Canadian Film & Television Hall of Fame was founded in 2007 to recognize extraordinary achievements in the Canadian entertainment industry. Inductees are selected by a jury of their peers.