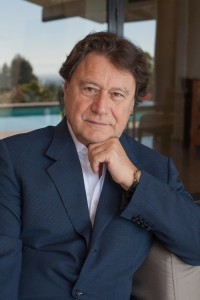 This article was originally published in 2008
Robert Lantos marches to the beat of his own drum. He is a successful Canadian business leader by default – or through serendipity as he calls it – and a feature film producer out of passion.
Those seeds of duality were planted early on when he and his hard-working Hungarian parents arrived in Montreal in 1963 and Lantos was a self-described 14-year-old 'penniless immigrant who didn't speak a word of English or French.'
By Expo 67, Montreal was in full swing, Lantos had mastered both French and English, and was having the time of his life on McGill's vibrant university campus, ingesting every film course available to an 18-year-old communications major in the heyday of the '60s. There was no degree in film available back then, but the MA in communications served him well when later building Alliance Communications in the '80s and '90s.
In 1974, Lantos discovered his all-time favorite film, Federico Fellini's Amarcord (about an old man looking back on his life in a 100-year-old coastal village in Italy), on the opening night of his first trip to the Cannes Film Festival with his lifelong friend and former business partner Victor Loewy. But to hear Lantos tell it, much of his destiny has been controlled by luck and a 'guardian angel.'
'There was no plan,' Lantos says, grinning as he recounts his entry into film distribution with The Best of the New York Erotic Film Festival in the '70s. 'I just wanted to have fun. I wanted to go to New York. I wanted to see films. I wanted to party.'
Lantos was enthralled by the thriving counterculture of New York City, then virtually led by Andy Warhol, who was named head of the jury at the Erotic Film Festival that year. Lantos had seen an ad in The Village Voice and read that Gore Vidal was on the jury with Warhol, so he convinced the Canadian media to pay his ticket to the Big Apple. A CBC radio program and the Montreal Star each pitched in $100.
That festival would provide a blueprint of sorts for his life. Lantos agreed to buy the rights to the 10 short film winners and figured he could have them 'spliced together' into one feature-length film. But first he had to cobble together a few thousand dollars for the rights.
'I had no money, so I asked Victor,' Lantos recalls. 'He had a job.' Loewy was then the advertising manager at McGill's thriving student newspaper and Lantos was VP of the Student Society, a non-paying gig. 'Victor gave me a thousand dollars,' says Lantos. So did Gabor Zinner (then-president of the Student Society) and so did Moses Znaimer – a future Hall of Fame inductee himself – who always jokingly claims that he 'made' Lantos.
'The thousand dollars Moses gave me for the broadcast rights was a windfall at the time,' says Lantos, adding: 'Yes, that's why he says he made me.' Their tight friendship to this day is typical of Lantos' loyalty to colleagues and friends, and theirs to him. The erotic film festival story is also very telling of how Lantos has managed to make a career out of putting finance partners together while having a good time.
'I love working with Robert because he is a lot of fun,' says director David Cronenberg, who has collaborated with Lantos on Crash, eXistenZ and Eastern Promises. 'I know that that might surprise a lot of people who find him intimidating and heavy-duty, a powerful personality, but it's true nonetheless. We have a lot of laughs together, deep laughs of a kind that I don't have with too many other people.
'Robert is that rarity amongst Canadian producers – someone who combines a European sensibility with a profound understanding of Hollywood, and who can use those attributes to launch unique, difficult and intriguing productions – the kind that might not get made in either Hollywood or Europe,' adds Cronenberg.
'When you work with him, you no longer find it surprising that he has been Canada's premier movie producer for decades. You might, however, still be surprised by the laughs.'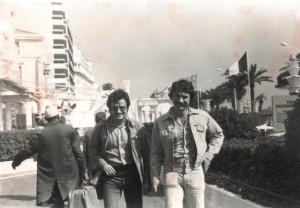 The Best of the New York Erotic Film Festival was released theatrically in July 1973 (although there is no official record, as it was never considered a feature film and tracked as such), yet it made more than $1 million at the box office in Canada, 'which was an absolute fortune back then,' notes Lantos. So he and Loewy (pictured together, right) figured they were onto something. Eventually their fledgling distribution company, Vivafilm, was rebranded Alliance Vivafilm when they began building the Alliance empire, initially with four other partners.
By the time Alliance Communications was formed in 1985, Lantos, as chairman and CEO, understood that distribution was the engine that drove the film industry. He had produced a couple of TV movies and 12 feature films, including l'Ange et la femme (1977), starring Carole Laure, which flopped, the box-office hit In Praise of Older Women (1978), Suzanne (1979), Your Ticket Is No Longer Valid (1980) and the classic Canadian tale, Joshua Then and Now (1985), amongst others.
Yet when Alliance was only an empire in his head in the early '80s, Lantos described the company he envisioned as an octopus with tentacles in film and TV production, feature film distribution and broadcasting with financial partnerships that covered Canada and spanned the globe. It was about the big picture.
By the 1990s, Lantos had moved to Toronto and pushed his global-reaching Alliance Communications to satellite offices in Los Angeles, Paris and Montreal with partnerships virtually everywhere there was a film or television industry. There were productions all over the globe and distribution deals (with New Line Cinema and Miramax Films, for instance) raking in cash from American pictures unspooling in Canada.
'Robert Lantos is a man of culture, a man of vision, and a clever businessman,' says François Macerola, former executive director of Telefilm Canada and now executive producer at Cirque du Soleil. 'His involvement in the film and television industry is, and has always been decisive.'
Alliance went public in 1993 and would enjoy a wave of TV hits, including Due South (on CBS and CTV) and ReBoot, which jetted ABC and YTV into the number one spot on Saturday mornings across the U.S. and Canada.
The empire also had award-winning films such as Atom Egoyan's Exotica being toasted by festivals worldwide and bringing accolades back to Canada.
It seemed a foregone conclusion that Alliance would enter the profitable world of broadcasting when the CRTC opened the gates to newcomers in the mid-'90s. Its first specialty channel was Showcase, known for its edgy programming.
'Robert Lantos brought much-needed Bay Street credibility to the Canadian production industry,' notes Helga Stephenson, former head of the Toronto International Film Festival. 'By commanding and demanding serious attention, sometimes through outrageous moves, he became the consummate showman who wooed and won the loyalty of the major business minds in this country. In short, Lantos brought business to the party and took the Canadian film business into the major leagues.'
So in 1998, when Lantos sold his share of the empire for a cool $60 million to his fiercest competitor, Atlantis Communications, it stunned the industry. The company itself was sold for 'just under $500 million,' Lantos confirms, and he got back to filmmaking.
'I had only planned to be a CEO for 10 years,' explains Lantos. 'If I hadn't sold, I'd be much richer today, but I wanted to get back to producing films.'
In 1998, Lantos changed his official title back to 'producer', launched Serendipity Point Films, and rolled up his sleeves.
Ted Kotcheff, now exec producer of Law & Order: SVU, says he 'adored working with Robert' as director of Joshua Then and Now because 'he's a real producer in the sense that he wants to make good films. He's passionate about films and he's not in it for the showbiz glitz, for the champagne and cigars, and [to be] photographed strolling down the Croisette in Cannes and all that – he really wants to make memorable, significant, artistic films.'
In 2007, Alliance Atlantis Communications was bought by Canwest Global Communications and Goldman Sachs for $2.3 billion (and subsequently split up). Hundreds of Canadians were employed or trained at AAC during its 22-year reign as a leading production, distribution, broadcasting and international sales entity.
Egoyan (for whom Lantos has produced or exec produced seven films, including his latest, Adoration) credits Lantos as being 'responsible for sustaining my career as a filmmaker.' (Lantos pictured with Egoyan, main photo at top.)
'When Robert first approached me in the late eighties after Speaking Parts was presented at the Directors' Fortnight in Cannes,' explains Egoyan, 'he promised that he would support my work if I could keep my budgets low and my artistic aspirations high. Over the years, the budgets grew, as did the audiences for my work. I admire Robert for his loyalty, his passion and his sense of humor. He loves to play the role of the producer like no one else in this country, which can be challenging, but always very fun.'
As Lantos' production company Serendipity celebrates its 10th anniversary this year, he continues to have fun handpicking feature film projects. He's also distributing them through his own Maximum Film Distribution, which naturally has its own global tentacle (Maximum Films International), inking distribution deals since its inception last summer.
Lantos swears he's not building another empire. Stay tuned.
With files from Marise Strauss