This article was originally published in 2009
Christopher Plummer's acting career flourished on foreign soil as, like Charlie Chaplin, he initially went to America to make his name. But his native Canada permeates Plummer's life story.
Plummer's career has spanned more than six decades on stage and screen. He embraced the late 1940s in 'chic and raunchy' Montreal, broke out in 1950s New York City and the golden age of Broadway, and called London home in the swinging 1960s.
But the Toronto-born, Montreal-raised stage legend got his break as a stock actor in CBC radio dramas during the pre-TV 1940s and in Canadian repertory theater to 1950. At age 18, he played Oedipus in Jean Cocteau's play Infernal Machine in Montreal.
Then a season of stage work in Bermuda led Plummer abroad, eventually to London, Broadway and Hollywood, where he thrived amid the hurdles and misunderstandings he needed to overcome on a foreign stage.
'Canadians have always been chameleons,' Plummer observes. 'They can disguise themselves and copy, and they have a good ear, so they can play Brits and Americans very well.'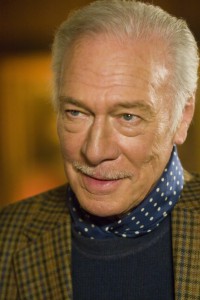 Fellow Canadian actors will nod in complicity. But as Plummer adapted to measure up against the best – which included Henry Fonda, Gregory Peck, Bette Davis and Sophia Loren – he longed to perform back in Canada at the Stratford Festival, which opened in 1953.
'It was a strange, new miracle that Canada should suddenly be put on the English-speaking map in a little town where no one knew where the hell it was,' Plummer recalls of a sleepy railway town suddenly transformed into a mecca for classical theater. 'And I wanted to be part of that.'
Ironically, Plummer was turned down for the first two seasons at Stratford. 'I was accused of being a general ne're-do-well, untrustworthy and a drunk. And of course, all those things were true,' he jests.
So it was back to Broadway and Hollywood, where Plummer honed his stagecraft as a booze-driven, womanizing classical actor, partying in worldly New York City with the likes of Arthur Miller, Carson McCullers, Tennessee Williams and Paddy Chayefsky.
Plummer was, by his own admission 'slumming it'; he was living beyond his means, living out of a suitcase, getting into endless scrapes, and being hoisted out of them by friends and patrons.
'You have to suffer a bit, so that you can rise the way an artist should rise. An artist needs to suffer in the beginning,' he insists.
Plummer's early bad-boy persona sprang in large part from his patrician Montreal upbringing, as a great-grandson of prime minister Sir John Abbott.
'I needed to find some sort of anger and temperament because I'd grown up in such good-mannered society, I needed to be down and dirty to be an artist,' he explains.
An added dividend: Plummer learned how to hold a stage, carry an evening, and perform great classical roles. After all, getting his name high up on the marquee didn't happen overnight. Plummer got steady work as a TV soap star before he got serious stage work. There he learned to play to a camera lens, beneath arc lights and sound booms and in front of cynical studio crews.
That yearning for his 'Shakespearean medicine' between film and TV work is also the secret of his career longevity, Plummer says.
'I knew how to constantly go from film to stage, from film to stage, so I wouldn't be bored. The stage is where you hone your craft and refurbish it. And I enjoyed going back to the stage because I love my job,' he insists.
Plummer's stage break came in 1955, at the Sarah Bernhardt theater in Paris, co-starring in Medea, opposite Dame Judith Anderson. He then toured the U.S. in a production of The Constant Wife before, at age 25, Plummer secured his first Broadway gig, a play entitled The Starcross Story that opened and closed in one night.
But then Plummer finally did get his Stratford break, returning home in 1956 to play Henry V at Stratford under the town's early tent flaps.
And it was then that the famed Hollywood director David O. Selznick brushed into sleepy Stratford to offer Plummer two movie roles in F. Scott Fitzgerald and Ernest Hemingway adaptations, and a seven-year studio contract.
With that, Plummer's future was assured on home soil, except, of course, he turned down Selznick's lucrative offer to play Hamlet for a pittance during Stratford's next season. A foolish career move?
'It was a wise decision, even for me,' he insists. Selznick did represent the pinnacle of Hollywood, but the studio contract was by now antiquated, as indie moviemaking increasingly became the norm.
'I thought [the studio contract] would really tie me down for a few years, and where was my theater experience going to be?' Plummer questioned, as his Henry V performance at Stratford suddenly lent him star billing on Broadway. So it was back across the border, and eventually to live TV during the 1950s.
Then came the endless movie offers after his most readily known role as that of Captain Georg von Trapp in Oscar-winning The Sound of Music. Fame and reward had finally come to the tireless Canadian actor, but not complacency; he always strived to improve his craft.
'I can say I was totally undisciplined, but I grew up in an era where discipline reigned in the theater,' says Plummer of the paradox between his personal and professional lives. 'I grew up with masters who enforced the discipline. I grew up a whole lot and I had a marvelous time,' he adds.
To this day, Plummer keeps returning to Stratford to fine-tune classical roles, the latest being Prospero in The Tempest, planned for next year.
On the film front, Plummer recently co-starred in Terry Gilliam's The Imaginarium of Doctor Parnassus, the last film from Heath Ledger that will receive red-carpet treatment at the 2009 Toronto International Film Festival.
MILESTONES
Dec. 13, 1929: Christopher Plummer is born in Toronto.
1948: Makes stage debut in Cymbeline at Canadian Repertory Theatre in Ottawa.
1951: Stars in CBC TV production of Othello
1954: Makes Broadway debut in The Starcross Story
1955: Broadway breakout performance in The Lark, opposite Julie Harris,
1956: Plays Henry V at the Stratford Festival in Ontario
1957: Daughter Amanda Plummer is born during brief marriage to Tammy Grimes
1961: Debuts on a London stage in Becket
1965: Plays Baron von Trapp in the Oscar-winning The Sound of Music
1974: Earns a Tony for his performance on Broadway in Cyrano
1976: Snags an Emmy for best series actor for his role in Arthur Hailey's The Moneychangers (NBC)
1988: Does a U.S. tour in the title role of Macbeth 1990; co-stars in Canadian TV series Counterstrike
1994: Performs opposite longtime friend Jason Robards Jr. in revival of Harold Pinter s No Man s Land on Broadway 1997: Conquers Broadway with one-man show Barrymore
1999: Plays TV journalist Mike Wallace in tobacco drama The Insider
2002: Co-stars in Atom Egoyan's Ararat
2009: Co-stars in The Imaginarium of Doctor Parnassus, which screens at the Toronto International Film Festival
2009: Stars in Atom Egoyan's Remember as a Holocaust survivor (pictured, main)