By Suzan Ayscough
This article was originally published in 2007
Michael Spencer wrote his spicy memoirs in a book called Hollywood North: Creating the Canadian Motion Picture Industry. It's the story of the development and evolution of a $3-billion film and television industry that began with an unassuming two-page memo to Cabinet in 1965. Spencer wrote that memo.
The result is Telefilm Canada, whose modest beginnings as the Canadian Film Development Corporation can be summed up by Spencer rather succinctly. "Because of that memo, we were asked to do a lot of studies and present to the government and the House. We arrived with wagons full of research documents, and when they saw us pulling up to the front of the Parliament building, they said: 'You don't expect us to read all that stuff!' So we were asked to write an executive summary, so I basically rewrote that two-page memo for them, and the CFDC was born!
"The feds gave us $10 million, and that was supposed to last us forever,' chuckles Spencer. 'We did get more money in the late '70s and they renamed it Telefilm Canada when they added even more money for television production in the '80s."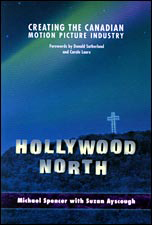 Many such colorful anecdotes are detailed in Hollywood North, which I cowrote with Spencer in 2003.
Spencer was the CFDC's first executive director, from 1968 to 1978. After that, he cofounded the completion bond company Film Finances Canada and stayed in the business. Yet it's Telefilm that is his legacy.
Today's Telefilm – celebrating 40 years – is the Crown corporation that administers nearly $400 million annually through different funds, including the Canada Feature Film Fund, the Canadian Television Fund and the Canada New Media Fund. For his role in its conception, this understated visionary has been called the 'founder' of Telefilm.
Spencer is a vibrant and active quiet-voiced elder who's more eager to discuss the present and the future than the past. So before we talk tribute, he manages to sneak in some clever advice about the advent of multimedia and a new form of distribution which he insists is a terrific opportunity for Canadian producers to seize a new audience.
'Screens have become even smaller and mobile – like iPods, cell phones and other little pocket things,' Spencer begins, 'so the demand for television production will continue to maintain its own level with the population, and movies will continue as always, but now there really is a new market for Canadian producers. They will have a better chance because of this new means of distribution, and as the pocket screens increase in popularity, so will their opportunities. But we'll have to watch who controls the pocket screens!'
Spencer has seen it all before. Different medium: same message. Silver screen, small screen or mobile screen: whoever controls the screens controls the industry.
"All of this was in [former secretary of state] Judy LaMarsh's speech when she introduced the CFDC to the House of Commons in the original legislation in the '60s," Spencer continues.
Believing that Canadians had the talent to compete with the Americans on their own turf, quotas were rejected in favor of competition.
In June 1966, LaMarsh naively told the House of Commons: "In rejecting quotas, we are counting on film distributors and cinema chains to give more than ordinary support to the aims of this program." In other words, LaMarsh expected the U.S. majors – which owned virtually all the cinemas in English Canada – to help distribute the Canadian movies that would result from government funding. "Well, that obviously never happened," says Spencer.
He is quick to add that it's not too late for digital media distribution.
"We started too late with cinema, and that will probably never change now," he reflects. 'But with the new distribution – the Internet and satellites – Canada has another shot at controlling its own pictures on these new mobile screens. But it will of course be a tough fight because there will – as there always will be – a lot of competition to put American shows on those screens, too."
When it comes to his old flame – the cinema – Spencer is no longer naive. He no longer believes that English-Canadian celluloid will ever mirror the success of its French film counterpart, no matter how much money is spent.
"In a nutshell, the history of cinema in Canada is that one English breakthrough film a year does pretty well, but Quebec just keeps on doing it all the time," Spencer confides. 'But octogenarians can admit that, I suppose.
"This year we have Away from Her,' he enthuses, sounding like he's falling in love all over again. 'It's a terrific film! But as always, there are too many examples of success in French to name them all. That's the history of our film industry from the very beginning,' he adds with a tinge of defeat in his voice. 'But that's also what keeps us going."
Spencer points to a classic film example to make his point: Ted Kotcheff's The Apprenticeship of Duddy Kravitz was one of the few English hits in the '70s, when the likes of Gilles Carles (La mort d'un b°cheron) and Denis Héroux (Valérie) had them lined up around the block and begging for more. Spencer thinks the difference has a lot to do with English talent moving to L.A., while the French have deeper roots here.
There is a certain irony in the fact that this champion of Canadian moving pictures was born in England. He began his cinematic journey here by happenstance when his Oxford University education was cut short by the Second World War, which broke out when he was on holiday in Canada. Back then there were no commercial airlines and all ships were used for the war effort, so Spencer joined Crawley Films in Ottawa as a cameraman. He was involved in several documentary films before joining the Canadian Army Film and Photo Unit, from which he was discharged as a captain in 1945.
After the war, Spencer joined the National Film Board and rose to become one of its top planning executives. It was there that the idea of an independent production fund was born.
'The filmmakers started asking, "Why are we making films in the national interest? Why don't we make films in our own interest?" Spencer recollects. "That's where I came in and said, 'Yes, but we'll need some money. We'll need legislation, which means we need research,' which of course means we needed interdepartmental committees."
And the rest, as they say, is history.
KUDOS FROM FILMMAKERS
Ted Kotcheff
Exec producer, Law & Order SVU; director, The Apprenticeship of Duddy Kravitz
'I think Michael Spencer single-handedly created the Canadian film industry. He had intelligence, taste, good judgment, good sense, and he understood how to deal with both the volatile creative people and the stick-in-the-mud bureaucrats. That's why he was perfect for the job of creating [the former Canadian Film Development Corporation; today called Telefilm Canada] in the '60s.
Without Michael Spencer, there wouldn't have been an Apprenticeship of Duddy Kravitz. I'd tried for 12 years in the U.S. with no luck. It got made because of the new fund. Michael immediately saw the cinematic qualities and 'Canadianness' of the script. It's a film that deals with the 'third world' in Canada; not the French, not the English – the rest of us!
And it was Michael that insisted not just on Canadian filmmakers, but on Canadian producers, or no money! And how right he was! He introduced me to [Duddy producer] John Kemeny, who was such an asset. Remember, we only had $750,000 for the whole budget and we had to think period wardrobe, period cars…even period lampposts, and Kemeny put all the money on the screen. Michael was so right to insist on Canadian producers, and that's why there is a Canadian industry today.
Paul Almond
Director, Act of the Heart
Michael came to stay with us in Malibu, and one Saturday morning he wandered off alone and returned to report he had seen 54 species of birdlife in our adjacent Malibu Lagoon. This gave me quite a shock, and I enrolled in Santa Monica College's bird-watching course. Since then, we have often birded together, to my great delight. He may be a great organizer, but he's an even greater birder!
Kevin Tierney
Producer, Bon Cop, Bad Cop; president Park Ex Pictures
'First and foremost, Michael is a gentleman and that should not be discounted in any assessment of his contribution, because who Michael is personally contributed greatly to the successes he managed to achieve.
Michael not only had a vision of the importance of feature films to popular culture, he succeeded in getting other people to be part of it – English and French alike, politicians and bureaucrats, distributors, producers and filmmakers, all with his innate elegance, wit, charm, and not to be forgotten or underestimated, fire.'
Wayne Clarkson
Executive director, Telefilm Canada; former prexy, Canadian Film Center
I have had the pleasure of knowing Michael Spencer for the last 30 years. I share a special kinship with Michael, the first executive director of the Canadian Film Development Corporation, and would like to thank him for his passion, leadership and commitment to making the CFDC [now Telefilm].
We've come a long way since March 3, 1967 when the CFDC was created with a budget of $10 million. Today we administer nearly $400 million annually, but one thing has not changed. The vision that created the foundation of the CFDC 40 years ago is still as relevant: encouraging Canadian talent and creating Canadian content that engages Canadian audiences and the world. Michael contributed greatly to that, and for that we are all grateful.