This article was originally published in 2008
Catherine O'Hara was walking down a street in Beverly Hills recently when she stopped to give a panhandler a couple of dollars. As she handed him the money, he looked up at her and exclaimed, 'Hey, Second City!'
It's moments such as this when O'Hara realizes that despite an impressive list of Hollywood film credits amassed over her 30-plus-year career, she continues to be most fondly remembered for her early work on the zany Canadian sketch comedy series SCTV, created by Toronto troupe The Second City.
'A lot of people come up to me to talk about SCTV – it is really amazing how long that show has lived on,' says O'Hara, on her cell phone from L.A., where she is attending her son's sports day.
O'Hara, who hails from Toronto, was just 19 when she first got involved with The Second City in the late 1970s, but her first gig at the famed comedy club was as a waitress.
'Once I saw the Second City show I thought, "Oh my Lord, that is what I want to do. This is what I am meant to do. Please let me in," recalls the 54-year-old writer, actress and director. 'Waitressing seemed like a fun way to watch the show for free every night.'
After one failed audition, O'Hara was hired for the Toronto-based touring company by the late John Candy, and then moved to the main company, initially as the late Gilda Radner's understudy. After two years performing with the troupe, O'Hara, along with the great comedic talents Candy, Joe Flaherty, Eugene Levy, Andrea Martin, Harold Ramis and Dave Thomas, created SCTV in 1976 for Global.
One of the most successful programs in the history of Canadian television, SCTV aired until 1984 in Canada (migrating to CBC, and, finally, Superchannel) and the U.S. (NBC), and received 13 Emmy Award nominations, including two wins for best writing.
O'Hara says that at the time no one realized the impact of the show, renowned for its wacky characters such as O'Hara's trademark Lola Heatherton, a washed-up Vegas singer who greeted fans with the signature shriek, "I love you! I wanna bear your children!"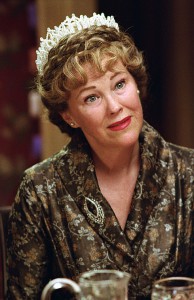 "It wasn't until my dad came home and said people at work were watching that I realized the show was actually out there," says O'Hara, who has gone on to star in Hollywood movies such as: Home Alone, Tim Burton's Beetlejuice, and the Christopher Guest mockumentaries Waiting for Guffman, For Your Consideration and Best in Show, as well as voicing characters for numerous animated films, such as Burton's The Nightmare Before Christmas.
O'Hara is also modest about the influence of SCTV in bringing Canadian comedy talent to the forefront of Hollywood in the early '80s.
"There have always been amazingly funny people in Canada and we were just one group," says the Emmy- and Gemini Award-winning actress, who received a star on Canada's Walk of Fame in 2007.
"SCTV might have strengthened the idea that your work can go farther than the city or the country you live in, and made it seem more accessible," O'Hara explains.
Married and with two sons, 13 and seven, O'Hara admits family is her priority these days. But who knows, she might have another madcap comedy series up her sleeve yet.
"I have shied away from TV because of its long-term commitment," she explains. 'Especially the sitcoms I have been offered. I read them and think, 'Oh, if I ever do a sitcom, I am going to write it and it's going to be way better than this."
Editor's note: Ms. O'Hara did indeed have another "madcap comedy series" up her sleeve: Schitt's Creek, an unconventional half-hour comedy on CBC in which she co-stars with her SCTV alum Eugene Levy and his son, Daniel. The series debuted in 2015 and was greenlit for a third season in 2016. 
Main photo: Schitt's Creek, season two