This article was originally published in 2010
For nearly a half century Alanis Obomsawin, the Canadian director whom The Museum of Modern Art (MOMA) in New York recently hailed as the "first lady of First Nations film," has been driven by an unwavering belief that anything is possible.
"We can't allow terrible things to take over our minds and become victims. We have to use hardship to make us stronger so we can fight for a better place for everyone," the Governor General Award winning singer, songwriter and director told Playback as she sat in her cluttered, well-lit office at the National Film Board in Montreal – surrounded by potted geraniums, books, Aboriginal art, children's drawings and awards she's collected over the course of an illustrious career documenting the stories and history of Canadian Aboriginal people.
A member of the Abenaki tribe, Obomsawin has dedicated her life to fighting racism against Canadian Aboriginal people by telling their stories from their perspective. Among her work is a landmark quartet of films about the 1990 Oka Crisis – an event that galvanized the native movement across North America and shattered the complacency with which many Canadians had long regarded Aboriginal land claims. The 78-day standoff put Aboriginal concerns in the international spotlight, pitting Mohawks against the Quebec police over the town of Oka's plans to expand a golf-course onto traditional Mohawk land.
Viewed by film scholars as one of the most important archives of Aboriginal-settler relations in existence, Obomsawin's four films about the crisis – Kanehsatake: 270 Years of Resistance; My Name is Kahentiiosta; Spudwrench – Kahnawake Man and Rocks at Whiskey Trench – are a testament to her uncompromising approach to filmmaking: the documentaries are thoroughly researched, compassionate and intensely political.
"It was important for me to be there [at Oka]. But it wasn't easy. I wasn't welcomed by the village people, or the police or the army," says Obomsawin, who spent much of the crisis behind Mohawk barricades. "I wanted to be on the inside to see things that other people weren't paying attention to."
Her commitment to telling stories that mainstream Canadian culture tends to ignore runs through her entire body of work: over 30 social issue films on topics that range from suicide, alcoholism and traditional healing – titles like Richard Cardinal: Cry from the Diary of a Métis Child (1986), Poundmaker's Lodge: A Healing Place (1987) and No Address (1988) – to docs about government policy and native protest, such as the Oka quartet and Restigouche (1984), which chronicles the volatile disagreement between the Mi'kmaq people and the Quebec government over the right to salmon fish, and Is the Crown at War with Us? (2002), a look at the conflict over fishing rights between whites and The Mi'gmaq of Esgenoopetitj (Burnt Church).
Obomsawin began her career as a singer/songwriter/storyteller and was first invited to the NFB in 1967 by producers Joe Koenig and Bob Verrall to work as an adviser on a film about Aboriginal people.
Her move into film making initially sparked controversy in her own community, as some elders viewed the act of recording Aboriginal stories on film as another means by which white society could appropriate Aboriginal culture. "Many of the elders were afraid they were going to take our history and our stories as well as our land. We had lots of meetings about what should and shouldn't be filmed. They wondered if it was better to be silent," recalls the filmmaker.
Obomsawin ultimately convinced them of film's potential but heeded their wishes to never film sacred ceremonies. Her first film, Christmas at Moose Factory (1971) is effectively a talking slide show with children presenting their own stories through their drawings. "Now I look at some of the documentaries I have made. Many of these people have died. It is so precious to have those films."
Sheltered from the constraint of pumping out hour long TV documentaries, Obomsawin's time at the NFB has allowed her to develop a style that involves spending hours with her subjects. "The best way to serve your trade is to give your subject time and really listen to them. I mean really listen," says Obomsawin. "They are telling the story – not me. Documentary filmmaking is not about listening for something you want to year. If you hear what you want to hear, there is something wrong. You aren't listening."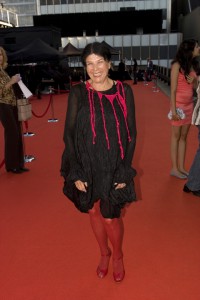 Born in New Hampshire on Abenaki Territory in 1932, Obomsawin returned to her family's ancestral reserve Odanak, north east of Montreal, when she was six months old and lived there until she was nine. It was there that her mother's cousin initiated Alanis into Abenaki history and taught her the songs and legends of her people. In 2006 she released WABAN-AKI: People from Where the Sun Rises, a feature-length film about the people and stories of her home reserve.
Obomsawin and her parents then left Odanak for Trois-Rivières, where they were the only Native family. She remembers her time in local French-language public school as difficult. "I had a very bad time until I was 12. We were the only Indian family and I got beat up a lot. I didn't realize what to call it then. I had lots of hardship but I was always strong enough to get up and fight back."
The bullying she suffered at school pushed Obomsawin to become an educator – a role she has never relinquished. Before she started making films, she taught school children about Aboriginal history and traditions. "At the time the kids were hearing about savages and things like that so I brought in lots of props – drums, tools, moccasins and songs. I loved it. I knew that I was creating something for the future. And I was right. I know now that I had a great deal of influence through that work."
In the spring of 2009, Obomsawin was honored with a special retrospective at Hot Docs and received the festival's Hot Docs Outstanding Achievement Award. A retrospective of her work was also held from May 14 to 26, 2008 at the Museum of Modern Art in New York City. That same month, she was also honored with the Governor General's Performing Arts Award for Lifetime Artistic Achievement, at Rideau Hall in Ottawa.
These days she has just completed a drama – Quand toutes les feuilles seront tombées (When All the Leaves Are Gone) – about her experience going to Quebec public school: "I want to make changes. And I don't stop, I just keep going."
Photo: Scott Stevens