This article was originally published in 2011
"His work resonates throughout the fabric of our culture in Canada and is another reason why Canadians should be proud of their culture." — Art Hindle, actor and ACTRA Toronto councillor
Bio: In all facets of his lengthy career as an illustrator, animator and artist, Frédéric Back has maintained an unwavering focus on the preservation of the natural world. An environmental activist since the 1960s, a time when preoccupations with animal rights, recycling and reforestation were considered avant-garde, the 87-year-old animator remains just as impassioned today. (Editor's note: Frederic Back passed away in 2013 at 89 years old.)
A two-time Academy Award winner, a knight of the Order of Canada and member of the Order of Quebec, Back moved to Montreal in 1948, joining Radio-Canada's graphics division in 1952 and its nascent animation studio in 1968. His first project with collaborator Hubert Tison was Abracadabra, a children's short, followed by the original screenplay for 1978′s All Nothing, which made famous his signature hand-drawn style and garnered the first of his four Oscar nominations.
The '80s brought three more shorts: Oscar winners Crac! (1981) and The Man Who Planted Trees (1988) and the Oscar-nominated Mighty River (1994). Having retired from animation in 1993, he continues to create artwork for environmental organizations. This year, his work is the subject of a massive, two-floor retrospective at the Museum of Contemporary Art in Tokyo that will travel to Sapporo, Hiroshima and Beijing over the next year.
Profile: Nearly two decades after retiring as an animator, Frédéric Back is soft-spoken, but full of conviction: "I felt a big responsibility in trying to make the best drawing possible with the most meaning possible," he says of his life's work. "So I was very conscious."
There's an interesting dichotomy in Back's best-known films; they have a soft, impressionist-style aesthetic, but always contain a sharp message and call to action. Fittingly, his animation technique was born of a desire to limit his environmental footprint while working on his favourite film, All Nothing.
To make his drawings' footprint smaller, he drew on frosted acetate paper and used wax-based pencils, which gave his films the gentle, fluid and textured look for which he is known.
"For a half-hour of film, you have to make 20,000 drawings, backgrounds and calculations," he says. "The films themselves are made of material that could be recycled. I am very conscious [that] you cannot do something without [using] anything."
Back's tireless work ethic and exhaustive approach have made him legendary in his field, but have proved to be as costly physically as they've been rewarding creatively.
While working on Crac! Back suffered a huge setback. The fumes from a fixative coating got into his eye, damaging his vision. He had two corneal implants and the doctors insisted he take a break, but Back refused and continued working with a magnifying glass: "I didn't want to stop. It was so important to continue."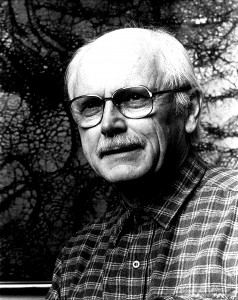 The decision would cost him his vision in one eye. His long-time producer and collaborator, Hubert Tison remembers in 1979 when Back's eye filled up with blood right before the Academy Awards in L.A. "It was dramatic because it happened so quickly," he says of the injury. "He had to learn to work with one eye and it was really tough but he succeeded. It was an épreuve [ordeal] for him."
The five-year production for The Man Who Planted Trees, based on French author Jean Giono's book about a shepherd who re-forests a barren valley, is an epic testament to the director's meticulousness. Having learned to animate with one eye, Back worked 12- to 16-hour days, through weekends and during vacations to finish the film. More than a creative endeavour, the film became a test of his endurance.
"He looked for perfections. He looked for excellence," says Tison, who adds the scarcity of Radio-Canada funding for animated films was a huge motivator. "When we produced those films the first thing we had to be was excellent because we had to be able to do the next one."
The Man Who Planted Trees was distributed worldwide, won an Oscar and galvanized a tree-planting movement, but Back looks back at the film's success somewhat ruefully.
"I always felt my film came too late compared to the situation, which was deteriorating [quickly]."
In discussing his final film, The Mighty River, an ode to the St. Lawrence River, he points out that a book based on the film was published in French and Japanese but never in English, despite the involvement of Canadian author Farley Mowat, who championed the project to publishers.
Today, Back continues to contribute to the environmental movement through his art and in 2008, flew to L.A. for an exhibit of his work organized by the Academy of Motion Picture Arts and Sciences.
In accepting his induction into Playback's Hall of Fame, Back plans to use the opportunity to speak about the cause to which he has dedicated his life's work.
"[Prizes] have very little significance if there is no change in the way we use the fantastic technology we have our in hands in order to make changes in the minds and behaviour of people," he says.
"Why, if you like my films and the message, don't you make better films in order to continue the fight?" he asks. "A film can be very funny or interesting, but [the filmmaker] should always find a way to move people, to make them aware of the power they have to contribute to saving this world from disaster."