This article was originally published in 2009
It's March 6, 1994 and the Gemini Awards are in full swing in Toronto when backstage heads suddenly turn to a quiet man with horn-rimmed glasses entering the media room. Whispers become a murmur.
If onlookers thought their childhood had flashed before their eyes, it had. Ernie Coombs, or TV's Mr. Dressup to an entire generation of Canadians, was collecting an Earle Grey Award for excellence in Canadian television.
After coming through our TV screens for 32 years with song and stories, all eyes watched expectantly for Mr. Dressup's Tickle Trunk to appear, or his faithful puppet friends Casey and Finnegan. When Coombs graciously acknowledged his backstage gawkers with that signature ear-to-ear smile, I too recalled my childhood, and that simple honky-tonk piano opening to Mr. Dressup that signaled is was 10:30 a.m. and time to let your imaginations run free with make-believe and crafts games.
Cathie MacKinnon recalls an even larger outpouring of emotion and affection by Canadians for her father when news of his death due to complications from a stroke came on Sept. 18, 2001.
'Everyone has their memory of Mr. Dressup, and what he meant to them growing up, and that's amazing to me,' Coombs' daughter says.
MacKinnon describes her father as no TV character, but a kind and good-natured man on and off camera.
'There was not a huge distinction between Mr. Dressup and Ernie Coombs,' she remembers. As a pioneer in Canadian kids TV, Coombs knew he'd lived a charmed life where all doors opened to him, MacKinnon adds.
The first Canadian door opened in 1963 when Coombs, an American, came north to work with fellow American TV kids show personality Fred Rogers on an early version of Mister Rogers' Neighborhood. (Coombs became a Canadian citizen in 1994.)
A year later, Rogers moved back to the U.S., while Coombs remained behind to help host the Butternut Square ensemble kids series. And by 1967, he had his own CBC show, Mr. Dressup, which continued on air until 1996, and then into reruns to 2006.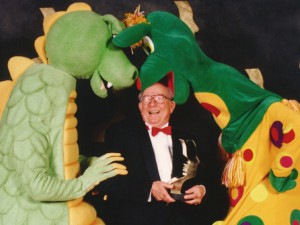 MacKinnon says the success of Mr. Dressup came from its simplicity – Coombs donned simple costumes and led sing-a-alongs with puppet pals – which is in stark contrast to today's slick and aggressive kids TV programming.
And he stayed true to that low-key, low-tech style of kids TV for the entire CBC run of Mr. Dressup. 'He just appealed to each and every child's creativity with a quiet half-hour of imaginative play,' MacKinnon says.
Once, when a visit to the Tickle Trunk had Coombs pretending to be a lizard, a CBC cameraman asked at a break: 'Don't you feel stupid doing that?' Coombs, ever down-to-earth, responded that he'd done what any father did with his kids in Canadian homes countrywide.
Off the set, Coombs cut and weeded his suburban Toronto lawn like most dads, and MacKinnon recalls no lavish upbringing. But she remembers as a young girl the delight of riding in a parade car alongside her beaming father during a Mr. Dressup tour in British Columbia.
Coombs' gentle, caring manner extended to how he greeted young Canadians who came up to him on the street – sometimes wondering how he'd gotten out of the TV set – or responded to letters and picture drawings that his young fans sent him.
MacKinnon helped manage her father's office, and recalls telling him she could create a form letter on a computer to help him deal with a tide of monthly fan mail.
'He said, 'No, I always make a hand-written reply," she remembers.
That's the caring, good-natured Ernie Coombs millions of CBC viewers remember – standing at his treehouse to shoot the breeze with Casey and Finnegan, and all the while glancing back with that broad smile to millions of adoring Canadians on the other side of the TV glass.
MILESTONES
Nov. 26, 1927: Ernest 'Ernie' Coombs born in Lewiston, Maine
1963: Moves to Canada with fellow kids entertainer Fred Rogers to work at the CBC on an early version of Mister Rogers' Neighborhood
1967: Hosts his own CBC kids show, Mr. Dressup, named for the costumes he pulls out of his Tickle Trunk
1994: Coombs takes on Canadian citizenship; receives the Earle Grey Award for excellence in Canadian television
Valentine's Day, 1996: Coombs signs off of his final episode of Mr. Dressup without telling his young audience that he will not return. The series lives on in reruns until 2006, and Mr. Dressup DVDs are sold to this day
1997: Receives an award from the Canadian Save the Children organization for serving as one of its spokespersons
May 9, 1996: Named to the Order of Canada, and receives the honor the following November. His citation reads: 'Believing that education linked with entertainment enhances the cognitive learning process, he encouraged and stimulated the imagination of pre-school children in thousands of original television programs.'
Sept. 10, 2001: Suffers a massive stroke
Sept. 18, 2001: Ernie Coombs dies at his home in Pickering, ON. He is pre-deceased by his wife Marlene, and leaves behind three children and six grandchildren