This article was originally published in 2011
"Roger was a game changer in the world of comedy, as was Air Farce. They really were the forerunners of political satire in this country — not only was it funny, interesting and innovative at the same time, it actually changed the way we looked at ourselves, which was a tremendous gift to our audience and the nation. Roger deserves a huge credit for that."  — Slawko Klymkiw, executive director, CFC
Bio: When he passed away this spring from leukemia, beloved funnyman Roger Abbott left behind a void in the Canadian comedy world. His career in satirical and political comedy began in his early 20s as an original member of the improv troupe The Jest Society in Montreal, a play on Pierre Trudeau's goal of making Canada a just society. With the addition of Don Ferguson and Luba Goy, the troupe created The Royal Canadian Air Farce as a radio show, which launched on CBC Radio in December 1973 and on TV in 1980. Abbott and Ferguson also co-hosted the Easter Seals Telethon for 30 years and were known for nurturing local talent, helming the TV program SketchCom, which featured up-and-coming sketch comedy groups.
Profile: Abbott is remembered fondly by audiences for impersonating prominent Canadian figures from Jean Chrétien to Peter Mansbridge, but he's also remembered for an expression that the cast of Air Farce adopted as its motto: "There's no limit to what a group can achieve if you don't give a shit who gets the credit."
Long-time friend and partner Don Ferguson recalled the line at Abbott's memorial earlier this year, echoing Abbott's explanation that "the important thing for us was to get it done, not to go around saying, 'it was my idea.'"
The expression encapsulates not just Abbott's approach to comedy, but his work as well.
"That guy knew more about week-to-week ratings than anyone in the research department; he knew the demographic of the audience, age, sex, all those issues that people generally didn't pay attention to. He was absolutely consumed with all the details of the program and could discuss every scheduling and audience issue," recalls former CBC exec and current Canadian Film Centre executive director Slawko Klymkiw.
Abbott never showed up to a meeting without a pad of paper to keep written records, flow charts and diagrams of, well, everything, Ferguson says. He was so meticulous, it inspired a common refrain among Air Farce crew: "Roger knows my job better than I do."
His dedication was evident the night Air Farce was to debut in HD, Ferguson remembers, and an equipment malfunction almost caused the show not to air.
"It was so incredibly frustrating, but Roger was here with the editor and assistant director and he stayed up all night to fix it," he recalls.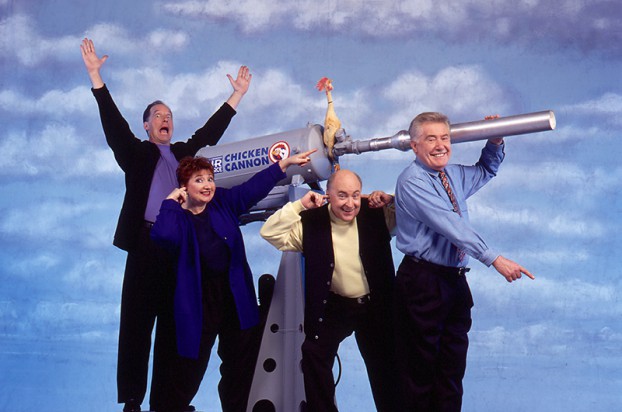 Abbott also sought to share his passion for the craft of showbiz, serving as the president of the ACTRA Writers Guild Toronto Branch in the mid-'80s, which eventually evolved into the Writers Guild of Canada.
Former branch president Briane Nasimok remembers that Roger would hold a writers brunch for fellow scribes to meet and learn from each other.
"People showed up because of him," says Nasimok. "He understood that because of his position, he could influence other writers and the public."
Abbott was also instrumental in helping to build the Canadian Comedy Awards to its success today.
"Once [Roger and Don] saw it needed their assistance, they became very involved," recalls Nasimok. "They were our figureheads and they helped legitimize the Comedy Awards, [helping it evolve] from just being an in-house pat on the back."
In a similar effort to foster the Canadian comedy scene, Ferguson and Abbott created CBC series SketchCom to develop new talent.
"The business was very good to us and we just had to give back," says Ferguson. "It didn't matter if there were people who were so new at their careers that they virtually had no experience or if they were students calling for advice. Roger was always taking the time to talk to them."
And what advice would he give them?
It was advice that Ferguson feels Abbott would still give out today: "If you have a problem that's really eating away at you, deal with it. If you have a script deadline that's getting worse and worse, the only way to do it is to sit down and write the fucking script. If you can't fix it, let it go. Be practical, you can't try to achieve the impossible."