This article was originally published in 2011
"Pierre Juneau is a cultural warrior. Under his leadership, his profound and sustained commitment to the principles of public broadcasting helped to protect and redefine CBC/SRC at a critical time in its evolution," — Maria Topalovich, executive director, Screen Composers Guild of Canada
Bio: Juneau's distinguished career began at the NFB in 1949 as Montreal district representative, and by 1964 he had become the film board's director of French-language production. In 1960, he cofounded and presided over the Festival International du Film de Montréal, a precursor to the city's current cinematic celebration. In 1966, he was named vice chair of the Board of Broadcast Governors, the radio and TV regulator at the time. When that body was replaced two years later by the CRTC (then known as the Canadian Radio-Television Commission) he was its first chair. After his departure in 1975, he entered federal politics and held posts as undersecretary of state and deputy minister of communications, followed by his seven-year term as president of CBC/Radio-Canada starting in 1982. (Editor's note: Pierre Juneau passed away in
Profile: Although he wouldn't have known it then, Pierre Juneau's first brush with politics would come in 1940s Paris, France, where, as a student, he would meet future Prime Minister Pierre Trudeau. Although some credited his '80s term as president of the CBC to the friendship he struck up with Trudeau during that time, Juneau's mark on the Canadian TV and film business started with his ascension through the ranks at the NFB starting in the late 1940s.
As the NFB's head of French production, he saw the board functioning, he reckons, 90% in English. He told Don Mulholland, the organization's director of planning and operations, that the distinctness of French Canada needed to be officially recognized.
"I convinced him the situation didn't make sense — that there ought to be an Anglophone side and a French side, and that I should be autonomous," Juneau recalls. "From then on there were two sections that worked closely together, but I made my own decisions."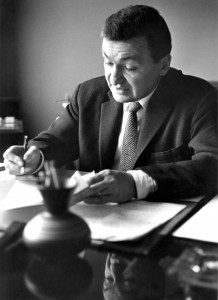 At the CRTC he was tasked with enforcing the 1968 Broadcasting Act that called for substantial airtime for homegrown programming and an end to foreign control of Canadian-based broadcasters.
"He was seen as a tough regulator," says John Hylton, CRTC general counsel under Juneau. "He was a wonderful person to work for. He let his staff have a lot of responsibility; it meant that he trusted us to do what he felt needed to be done."
In a bid to end American and British influence in the system, the CRTC stipulated that broadcasters could be no more than 20% foreign-owned.
"I must give credit to the government, which had been studying that question. It's amazing the amount of foreign control there was at that time," Juneau recalls.
In the early 1970s, he and his staff proposed, and subsequently implemented, guidelines demanding broadcasters air 60% Canadian TV programming overall and 30% Canadian music on AM radio, despite protestations from the Canadian Association of Broadcasters. The local recording industry was so grateful it named its annual awards show, the Juno Awards, in his honour. It was also a period in which the CRTC had to figure out how to regulate burgeoning cable TV.
Although Juneau and Trudeau were friends, they did not always see eye to eye. Soon after Juneau took over at CBC, the prime minister requested three nights of CBC airtime to discuss his new budget. The pubcaster thought it disastrous to pre-empt so much programming, but its hands were tied.
"The law was clear that the prime minister had the right to speak his mind if he had an issue he considered serious," Juneau says. "It was a difficult decision for me. I read the law and consulted my lawyers. The conclusion was that he had the right to ask for that, and he did it."
Then, in 1984, Brian Mulroney's Progressive Conservatives came to power.
"There was some worry the new government would not be pleased that I was the president and that it might affect their decisions when it came to their budgets," Juneau says.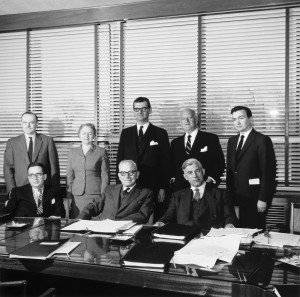 It was widely believed Juneau's association with Trudeau would work against him, and several friends and colleagues recommended he step down. He told them, "I represent the independence of the CBC and they can do whatever they like."
What the government did was cut $75 million from the CBC's budget, resulting in 750 layoffs. The pubcaster had anticipated the cuts, however, and had started quietly reducing administrative expenses to lessen the impact on programming.
Despite this hardship, Juneau enjoyed many successes at CBC/Radio-Canada, including stellar ratings for programs such as Degrassi Junior High and Lance et Compte. He aimed for Cancon levels of 95% and oversaw progress of the CBC's Canadian Broadcasting Centre, which would open its doors in 1993. Also under his watch, CBC Newsworld (now CBC News Network) launched in 1989. He was interviewed on the cable channel's inaugural broadcast, his last day on the job.
Franklin Delaney, who worked with Juneau at the BBG, CRTC and then CBC as VP of French TV, characterizes Juneau as a demanding but pleasant boss. "He was very committed and passionate about Canadian programming, Canadian music and public service," Delaney says.
And he still is. Eighty-eight-year-old Juneau remains highly focused on the pubcaster's present state.
"I don't like everything, of course," he admits. "But I'm worried about the [government] financing. I'm very much [in support of] the CBC."