Nick Krewen
Posts by Nick Krewen
Ron Burgundy is golden for TSN's Roar Of The Rings
The Anchorman 2 star contributes to a 38% increase in viewership to TSN's coverage of Tim Horton's Roar Of The Rings.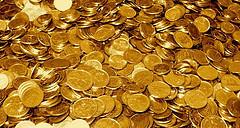 IPF renews web series funding 'indefinitely'
The outlook is good for web series producers eyeing coin from the Independent Production Fund, as its board of directors renews its commitment to funding the medium.
Disney XD draws kids into Fangbone
The youth-focused channel is inviting kids to help determine content elements, such as character voices, for its new animated series.
Rogers Doc & Cable Fund doles out $3.15M
The amount will be distributed over 11 projects, including Good Human Productions for The Bachelor Canada and Talking Dead Productions for Mom's a Medium.
Lantos and Fricker elected to ACCT Board of Directors
Legendary film and TV producer Robert Lantos and respected entrepreneur Harris Fricker bring veteran expertise to the Academy.
CMF invests $10.7M in latest Experimental Stream round
Eighteen projects, almost half of which are youth-focused, are given a cash injection by the Canadian Media Fund.
Secret Location launches Great Martian War app
The game app, which accompanies the Canadian original film that premieres on Dec. 5 on the History Channel, will also roll out in the U.S. and U.K.
Bell Fund spreads $2.74M over 15 projects, adds fourth deadline
Insight Productions, Antica Productions, Zone 3 and Great Pacific Media are among those receiving funding.
CFC, Mind Pirate announce wearable tech program finalists
Three Toronto digital developers and one from New Mexico will work to develop "the next mega blockbuster" in the field of wearable technology.
Force Four purchases format rights to U.K. health series
Executive producer John Richie tells Playback about taking on development of the ambitious factual venture, which aired first on BBC2 and involved 100 camera crews.
YTV looks to build buzz ahead of Some Assembly Required debut
The new live-action youth series from Thunderbird Films looks to engage fans online and off ahead of its just-announced January premiere.
ACTRA Toronto honours R.H. Thomson
The actor and activist will be awarded the 2014 ACTRA Toronto Award of Excellence.