Matt Sylvain
Posts by Matt Sylvain
CMF launches crowdfunding directory
The online resource, which features a list of 50 crowdfunding platforms, features information on the practice organized with producers' needs in mind.
Transmedia producer Alan Sawyer passes away
Sawyer, who headed up Two Solitudes and production shingle Changing Channels, was 51.
PNI policy generates over $1 billion annually of TV spending: report
The report, prepared by Nordicity, analyzed the likely impact of the CRTC programming policy on English-language television production between 2012 and 2017.
Weekly roundup: distribution, awards and funding news
Toronto-lensed NBC Universal series Hannibal has been renewed, and distributor Kaleidoscope has licensed several Canadian-made films (Cradle Will Fall pictured) to Shaw Media.
Study urges increased supports for Aboriginal producers
Aboriginal screen content is growing in popularity due to several factors, including increasing awareness of native issues and culture, the study determined (APTN's Blackstone pictured).
Ubisoft Quebec makes Francois Pelland development topper
Pelland (pictured), whose Ubisoft credits include Assassin's Creed III and Tom Clancy's Splinter Cell, was promoted as the company hires "several dozen" to support new projects.
The Borgias ending after three seasons
The period drama was an Irish-Canadian-Hungarian coproduction shot entirely in Europe.
Daniel Dales, Jarrett Sherman launch Digital Howard
The new venture's first project is producing the digital media extension of upcoming CHCH game show Spin Off (Dales and Sherman pictured).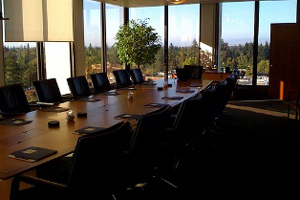 Quebec's TVA eliminating 90 positions
The cuts, totalling about 4.5% of the Quebecor subsidiary's staff, was due to the challenging media market, TVA said.
Canadian OTT market to be worth $614 million by 2017: PWC
The consulting firm projects the North American electronic home video market will be $14.8 billion in 2017, bigger than the theatrical film market's $13.5 billion.
Brenda Greenberg named Frantic Films script development chief
An industry veteran, Greenberg's (pictured) credits include series Kenny vs. Spenny, Being Erica and Street Legal.
Pre-production starts on Winnipeg shoot of Strings
The indie drama from U.S.-based Strings of Film, stars Lucas Till (Walk the Line), Kherington Payne (So You Think You Can Dance) and Maria Bello (A History of Violence, pictured).