Matt Hays
Posts by Matt Hays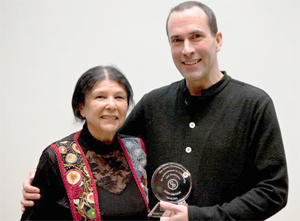 John Greyson accepts inaugural Alanis Obomsawin Award
The Montreal-based documentary screening group Cinema Politica gave its inaugural Alanis Obomsawin Award for Commitment to Community and Resistance to Toronto-based filmmaker John Greyson last week.
Coming up with Seven Up
Montreal filmmaker Paul Almond presents the documentary that started the hugely popular Up documentary series
LaBruce film banned in Australia
Melbourne film festival forced to drop L.A. Zombie by censors
Waters denounces Harkema film
Maverick American filmmaker John Waters has expressed his displeasure over the creation and release of the low-budget Canadian feature Leslie, My Name is Evil, which opens in theaters across Canada this Friday.
Star power, scripts add up at Incendo
Montreal shop marks milestone with Wandering Eye
Langlois, Lachance win with Telefilm
Telefilm Canada has granted funding assistance to 14 French-language screenwriting projects, totaling approximately $200,000, as part of its effort to foster screenwriting with strong box-office potential.
Real to Reel: Reel Injun
Given how ever-present native peoples were in Hollywood movies, it's odd how epically misrepresented they were.
Contemporary World Cinema: Excited
'It's not autobiographical,' Bruce Sweeney says of his latest film. It's a statement he'll probably be making a lot, given the storyline in his new low-budget feature, Excited.
Contemporary World Cinema: High Life
Gary Yates' latest film is a crowd-pleasing, crazy heist movie, about four hapless outsiders who decide to feed their morphine habit by knocking over a couple of ATM machines.
Vanguard: Carcasses
Montreal-based filmmaker Denis Côté pushes boundaries once again with his latest no-budget experimental feature Carcasses.
Denys Arcand: Where history meets cinema
Denys Arcand says it was 'sheer serendipity' that brought him to filmmaking.
Controversial topics the core of Watson's career
Patrick Watson is always looking for new experiences. The renowned broadcaster, journalist, filmmaker, actor and author – who becomes an octogenarian this year – has been working on poetry.