Adam Benzine
Posts by Adam Benzine
Hot Docs 2013: The complete festival wrap
With North America's largest documentary festival having yesterday drawn to a close – and now firmly in its twenties – realscreen's Adam Benzine recaps all the key news from the past 11 days in Toronto.
Hot Docs 2013: When I Walk, Dragon Girls, scoop prizes
Jason DaSilva's When I Walk (pictured) and Inigo Westmeier's Dragon Girls were among the feature doc winners at the 2013 Hot Docs Awards, which were handed out on May 3.
Hot Docs '13: In a "Manor" of speaking…
Shawney Cohen (pictured, right) talks about his debut feature doc The Manor, which follows his family's strip club business and kicked off the Hot Docs festival in Toronto.
Still Hot after 20 years
As North America's biggest documentary festival celebrates its 20th anniversary, the team behind Hot Docs – which kicks off today in Toronto – talk about the Canadian event's growth and the secrets of its success.
Hot Docs '13: KinoSmith picks up The Manor, Blackfish
Distributor KinoSmith has picked up Canadian rights to feature documentaries The Manor (pictured) and Blackfish, both of which will screen at Hot Docs in Toronto over the next 11 days.
Hot Docs to open with Cohen's Manor
The Manor (pictured), the debut documentary from Canadian filmmaker Shawney Cohen, will have its world premiere as the opening night film at this year's Hot Docs festival in Toronto.
CBC, TLC pick up Mentorn's Pistorius doc
Along with CBC and U.S. net TLC, a host of other international broadcasters have all acquired Mentorn Media's quick turnaround doc (pictured) on Oscar Pistorius and the death of his girlfriend, Reeva Steenkamp.
Pepe's Flowers, Chameleon among Hot Docs Forum picks
Hot Docs has unveiled 19 projects that will be presented during this year's Hot Docs Forum, two of which come from Montreal-based EyeSteelFilm.
Hot Docs fest to spotlight Continental, Fight Like Soldiers Die Like Children
Along with Sundance hits such as Blood Brother (pictured), the festival's special presentations to include 20th anniversary screening of classic The War Room.
Christina Rogers leaves NFB, joins Magnolia
The NFB's long-serving head of sales Christina Rogers (pictured) has left the company after more than a decade to join Magnolia Pictures.
Hot Docs to honour Blank
The American documentarian (pictured) receives the 2013 Outstanding Achievement Award, while the festival will also celebrate filmmaker Peter Mettler with a 'Focus On' retrospective.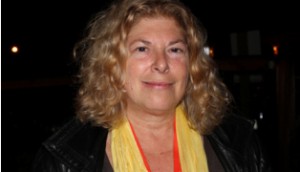 Hot Docs to honour Debra Zimmerman
The Canadian international doc festival will present the Women Make Movies executive director (pictured) with the 2013 Doc Mogul Award, recognizing her contribution to the documentary industry.